RBH Home
Maps & Travels
Articles
Legends
Towns & Villages
Castles & Houses
Churches
Biographies
Gentry
Family History
Odds & Ends
Mail David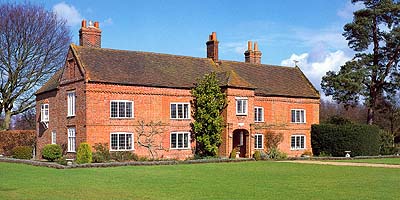 Banisters
Finchampstead, Berkshire
The Banisters Estate in Finchampstead which remained in the possession of a family of that name for seven centuries until 1821 is, by tradition, reputed to have been a reward for the betrayal of Henry Stafford Duke of Buckingham during his rebellion against Richard III in 1483.
The present house, built during the reign of King Charles II, has the inscription of J.B.H. 1683 over the porch. These initials represent John and Hannah Banister - the former held office as "Regarder of Windsor Forest" in 1695. The last Banister, also named John, died childless in 1821, when the Estate was sold. In 1835 the property came into the possession of the Rev. Ellis St. John, first cousin of the last John Banister. As both Rector of Finchampstead and Lord of the Manor of West Court, he was a sporting parson who had established his own pack of foxhounds in the district.
In 1935 Major and Mrs Salt purchased the property on the death of the late Charles Harris St. John of West Court, and after nearly 30 years sold the property in 1964.
Banisters is a private residence. It was last offered for sale by FPD Savills in March 1998.