Blandy Family Businesses
Reading
Two Short Histories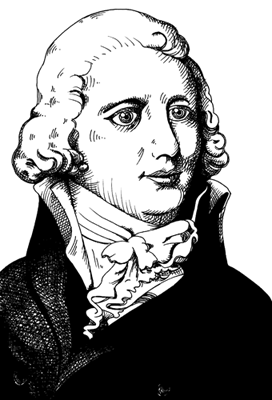 Blandy & Palmer Ironmongers
William Blandy was the third son of Adam Blandy of Letcombe Regis, a member of a prominent landed family who had lived on the Berkshire Downs for many generations. In order to make his fortune, he moved to Reading, probably to London Street where his family lived for some years. In the mid-18th century, he set up an ironmongery at No. 9 Duke Street, to which he later added a coal merchantís business. The firm owned a wharf on the Kennet just off nearby Star Lane. It was from 'Blandyís Wharf,' in the 1790s, that William Blandy set up in business with John Man, the Reading schoolmaster and historian, under the name of the Reading Navigation Company. They ran barges up to London and back carrying goods from many Reading businesses. It appears to have been very successful and the family were able to upgrade the wharf in 1828 after the coming of the Kennet & Avon Canal. Blandy's eldest son, another William, later joined the ironmongery business. He rose to become Mayor of Reading. After his fatherís death in 1797, William Junior entered into a partnership with Robert Palmer Senior, still in Duke Street, to became Blandy & Palmer, timber, deal, slate and salt merchants, ironmongers, coal & coke merchants. Robert Palmer Junior also later joined the firm. The partnership was eventually wound up in April 1836. Robert Junior remained in the coal business in Kingís Road, and William turned to timber in Star Lane. They seem to have dropped the ironmongery.
Blandy & Blandy Solicitors
John Blandy (1759-1821), the younger son of William Blandy Senior, trained in Henley, as a solicitor, under his fatherís cousin, the unfortunate murder-victim, Francis Blandy. In 1783, he joined the firm of Simeon & Hodgson solicitors, which had been established in Reading by Richard Simeon in 1733. Within five years, he had become a partner and the company changed its name to Blandy & Hodgson. In 1798, he was working alone and took on the lease of at No. 1 Friar Street where the firm remains to this day. Like his brother, he served as Mayor of Reading, but, from 1790, he was also Under-Sheriff of Berkshire, a position that his descendants (and now others employees of the company) have held ever since. In 1802, William Andrews joined the partnership as Blandy & Andrews and, from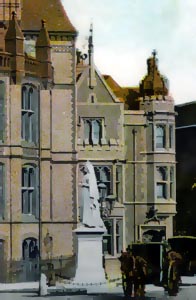 1809, William Saunders, as Blandy & Saunders. Then in 1818, John Blandyís son, John Jackson Blandy, joined the firm with William Andrews Junior and it became known as Blandy, Blandy & Andrews. His younger sons went into the brewing and banking industries. John Jackson is locally perhaps the best known of the whole family, having served both Reading and Berkshire as Mayor, Town Clerk, Clerk to the Magistrates, Borough Coroner, Under Sheriff and Clerk to the Municipal Charities. He built himself a find house on the slopes of Whitley Hill called High Grove in 1842 and lived there until his death. It was demolished shortly afterwards, in 1892. Throughout the Victorian period, the younger members of the family lived upstairs at 1 Friar Street. John Jackson Blandy had no children, but was joined in partnership with his nephew, William Frank Blandy, in 1858. The firm became known as Blandy & Blandy for the first time. William held all the same appointments as uncle, apart from town clerk. In 1874, the company changed its name to Blandy & Witherington when William Frank Blandyís brother-in-law, Duncan Henry Witherington (son of the Miller of Chamberhouse and Sonning), became a partner, then his son, William Charles Blandy, joined the partnership in 1886, and Charles Graham Chambers in 1905 as Blandy & Chambers. William Charles Blandyís son, William Edward Moeran Blandy, took over from Mr. Chambers in 1917. The firm became Blandy & Blandy again, which it has remained ever since. WEM Blandy had no children, but, in 1932, Peter Maret Blandy, a distant cousin from the Madeira branch of the family, joined the company. He became a partner in 1946, and was followed by his son, Nicholas John Blandy in 1975. Nicholas retired from Blandy & Blandy in 2002 and then as a tribunal judge in 2015. He only has married daughters, so there is no longer a Blandy at Blandy & Blandy at 1 Friar Street in Reading. It, however, remains the 25th oldest law firm in the country.
The younger sons of John Blandy (1759-1821), the first solicitor, went on to found their own successful businesses in Reading.
Click here to continue reading about this branch of the family.