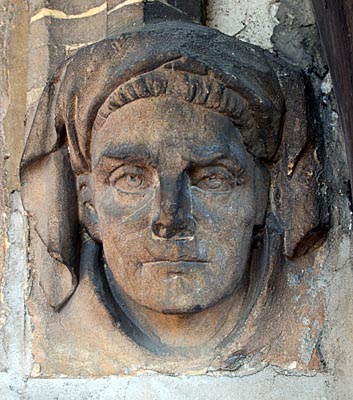 Sir John Norreys (d. 1466)
Born: circa 1400, probably at Bray, Berkshire
Master of the Wardrobe
Died: 1st September 1466 at Bray, Berkshire
Sir John Norreys was the eldest son of William Norreys Esquire of Ockwells Manor in Bray, by his first wife Christina, the daughter of William Stretch of Ruscombe. Around 1425, his parents secured for him an advantageous marriage to Alice, the daughter and heiress of Sir Richard Merbrooke, the Lord of the Manor of Yattendon. They had two sons and two daughters.
John was Knight of the Shire (MP) for Berkshire and Sheriff of Oxfordshire & Berkshire in 1442 and 1457. But, while his father, William, resided at Ockwells to a great age, John seems to have made a life for himself at the Royal Court, largely in Westminster and Windsor. He became Usher of the Chamber and then, in 1445, Esquire of the Body and finally Master of the Wardrobe to King Henry VI. He was also made a Knight of the Bath and even gained enough celebrity to be mentioned as 'the Conduit' in a popular song of the day. From 1446 onwards, he rebuilt the family home at Ockwells as the fine timber-framed building which still stands there today. In the windows of the great hall, he inserted beautiful stained glass, proudly displaying the arms of his friends at Court: including the King and Queen, the Dukes of Warwick, Somerset and Suffolk and the Bishop of Salisbury. He also spent money increasing and consolidating the family possessions in the parish. The following year, Sir John began similar work at Yattendon (which he and his wife had inherited in about 1440) and, in 1448, obtained license from the King to crenellate the walls and create a castle. He also rebuilt the church there and, again, had beautiful stained glass installed in the chancel, the main east window (now lost) featuring small kneeling figures of himself, his two wives and children. Two years later, he purchased the manor of Hampstead Ferrers (later renamed Hampstead Norris). It is often said that it was also during 1448 that his wife, Alice, was created a Lady of the Most Noble Order of the Garter. However, this is due to a misreading of the Royal Wardrobe accounts. She was just a lady-in-waiting to Queen Margaret.
It is not known exactly what part Sir John played in the notorious Wars of the Roses through which he lived. He would certainly have witnessed numerous troop movements through the City of London and was, no doubt, expected to raise men for the Lancastrian cause. However, with the fall of King Henry VI in 1461, Sir John found it expedient to move with the opinions of the party in power. He retained his office of Esquire to the Body of the new monarch, King Edward IV, as well as his prosperity.
Sir John married twice more. To Eleanor, the eldest daughter & coheiress of Roger Clitherow of Goldstone at Ash, near Sandwich in Kent, by whom he had two further sons and one daughter, and (in September 1459) to Margaret, widow of Nicholas Wyfold, Lord Mayor of London, and daughter of the Sussex knight, Sir John Chedworth.
Sir John died in 1466, leaving instructions for his burial in a marble tomb in the Norreys Chapel of St. Nicholas in Bray Parish Church. Sadly, this has not survived, but the carved stone Norreys arms high up on the walls are almost certainly his. Within a few months of Sir John's death, his widow, Margaret, had married John, Lord Howard (later Duke of Norfolk). She died in 1494 at Stoke-by-Nayland in Suffolk. He was succeeded in his estates by his eldest son, Sir William. His second son, John, became High Sheriff of Oxfordshire and Berkshire (1479).
Edited from Sidney Lee's 'Dictionary of National Biography' (1894).