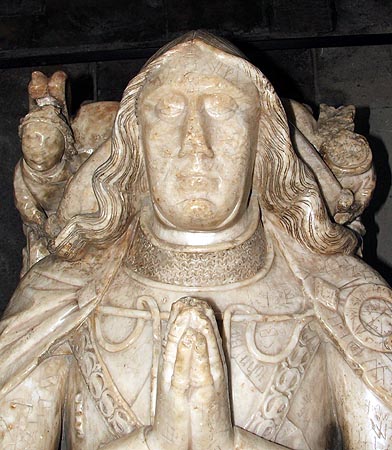 John Cheney (c.1442-1499)
Born: circa 1442 at Eastchurch, Kent
Baron Cheney
Died: 30th May 1499 possibly in Enborne, Berkshire
or Stourton Caundle, Dorset
John was the third son of John Cheney (sometimes spelt Cheyney or Cheyne) of Shurland Hall at Eastchurch on the Isle of Sheppey in Kent, by his wife, Eleanor, daughter and sole heiress of Sir Robert Shottesbrooke of Faringdon in Berkshire. He was raised in Kent, where his father was a prominent landowner and wool merchant, as well as holding Royal offices at Court and in Calais. John probably had a legal education in London.
Whilst his father fought for the Lancastrian cause during the Wars of the Roses, John found it prudent to make his way with the new Yorkist regime after 1461. He was created a Knight of the Bath at the coronation of Edward IV's queen, Elizabeth Woodville, on 23rd May 1465, and, soon afterwards, was sent with Rev. Dr. James Goldwell, the Dean of Salisbury, to talk with the King of Denmark. It was there that he obtained his nickname of the 'Vigorous Knight'. For Sir John was, apparently, an imposing man of great strength and stature. According to the 21 inch thigh bone found in his grave in the 18th century, he was probably about six foot eight inches tall.
On 20th June 1467, John's father died and, while his eldest surviving brother, William, inherited most of the family estates, special arrangements had been made for John to inherit his mother's Berkshire lands at West Woodhay, Enborne, Compton Beauchamp and probably Faringdon. One wonders if he was her favourite. Along with his brothers and step-mother, John, had a chantry chapel built around his father's tomb in Faringdon Churchyard.
Presumably Sir John took no part in the brief restoration of King Henry VI in 1470, although he almost certainly fought for King Edward IV at the Battle of Tewkesbury when he returned to the Throne after only 163 days. He was certainly made an Esquire of the Body to that king not long afterward and was granted the confiscated lands of the Lancastrian Sir Robert Beynton, centred on Faulston Castle at Bishopstone, six miles south-west of Salisbury in Wiltshire. He became Justice of the Peace for the county and It may have been at this time that he first became good friends with, Richard Beauchamp, the Bishop of Salisbury. Within a year, Sir John was also placed in charge of an English battalion of men "sent beyond the sea," although their destination is unclear.
In 1475, however, Sir John, was heading for France as Master of the Horse, with a retinue of seven men-at-arms and eighteen archers, as part of King Edward's invasion force. The English monarch was again pursuing the traditional English claim to the French Throne but, when his allies deserted him, the two sides soon came to terms without ever meeting in battle. Payments to Edward were agreed, under the Treaty of Picquigny, in return for his returning home, and staying there. Sir John was there at the signing and, to ensure that the English complied, he and John, Lord Howard (later Duke of Norfolk) remained behind as hostages with King Louis XI. They were both treated well and even received pensions from the French king when the English army finally left France. The two of them followed soon afterwards.
Sir John was also appointed Master of the Henchmen (or King's bodyguard) by 1478, showing him to be one of the King's most trusted servants. He also sat in Parliament for Wiltshire in that year and, the year following, married Margaret, the eldest daughter & co-heiress of Sir John Chidiock of Chidiock and Stourton Caundle in the adjoining county of Dorset. She was about ten years his senior and the widow of his 2nd cousin, William, 2nd Baron Stourton. She brought with her a family of six children, though they were mostly all grown-up by this time. Her eldest son would have already been living at Stourton House, but Sir John took possession of her parental estates in Dorset and became Justice of the Peace for that county. However, the couple probably spent most of their time in London or Windsor attending the King, whom Sir John served well for the next four years.
Upon the death of Edward IV, Sir John, of course, attended his funeral at St. George's Chapel, Windsor on 16th April 1483. However, he was, naturally, not best pleased when, soon afterward, his old master's brother, Richard, seized the Throne from his nephew, Edward V. So Cheney quickly entered into a plot with Margaret Stanley (alias Tudor alias Beaufort), the Countess of Derby, to rescue the young monarch from the Tower. Margaret was the mother of the last heir to the Lancastrian kings, Henry Tudor, Earl of Richmond. She was also Sir John's half-cousin, their mothers being uterine half-sisters. The plan was to cause a distraction with fires in London, supported by the landing of an invasion force led by the Countess' son and brother-in-law from France. However, it all came to nothing and over fifty conspirators were arrested, including several of Sir John's subordinates. He presumably managed to flee to the country for, not long after, he appears as one of the leaders in the Duke of Buckingham's Rebellion in Salisbury. Buckingham was the King's cousin and had some claim to the Throne himself, but the rising, again, failed and he was executed in Salisbury Market Place. Hearing of the Duke's capture, Sir John had fled Wiltshire some time prior to this and, along with his brothers, Robert and Humphrey, eventually managed to flee across the Channel to join the Earl of Richmond in exile in Brittany. In January 1484, Sir John Cheney was attainted for treason and his lands confiscated.
As noted, Henry Tudor was the Lancastrian claimant to the English Throne and, as such, was gathering men like Sir John around him as he prepared to invade England and overthrow Richard III. On 7th August 1485, their force landed at Milford Haven in Pembrokeshire where Henry knighted Sir John anew. He served as the prospective monarch's personal bodyguard as they crossed Henry's home nation, picking up extra forces, as they headed for England. They stopped at Atherstone in Warwickshire on the night of 20th August 1485, Henry and Sir John staying at the Three Tuns in the town. The next day, they march north east to challenge King Richard, whose army lay at Leicester. The two sides met in the fields around Market Bosworth half way between the two and a ferocious battle ensued. At one point during the mêlée, Richard III actually managed to get close enough to Henry to make an attempt on his life. He killed his standard bearer, William Brandon, so Sir John Cheney rode in to retrieve the Standard and put himself between the Royal rivals. King Richard managed to unhorse him by whacking him round the head with a broken lance. This struck the crest from his helm and, when he fell unconscious to the ground, his head was laid completely bare. Stunned for a time, he recovered to find Henry Tudor safe but his own protection lacking a helmet. So, it is said, he took his sword and cut the skull and horns from a bull's carcass, which happened to be lying nearby, and placed them on his head instead. He was later granted the bull's scalp as his family crest. Henry and John both survived the Battle of Bosworth, but King Richard was not so lucky and the earl of Richmond was crowned King Henry VII there on the battlefield.
A more formal coronation was held in Westminster Abbey in the October following. By now a Knight of the Body, Sir John was, of course, in attendance, leading the 'courser of state', covered in cloth of gold and heraldic horse trappings. He received a gift of cloth of silver for his trouble and, shortly afterwards was made a Knight of the Garter and appointed the Royal Standard Bearer, as well as being Constable of Christchurch and Southampton, Keeper of the New Forest and Steward of Cranborne, Canford and Poole. His attainder was quickly reversed too and he regained his Berkshire lands, but Faulston was returned to the Beyntons (and not exempted from resumption as sometimes stated). His main country residence seems to have then become West Enborne Manor. He may have let one of his brothers, Sir Robert or Sir Roger Cheney, live at West Woodhay House. Another brother, Sir Alexander Cheney, had his own home not far away at Great Shefford Manor.
Sir John continued to serve his new monarch in a military capacity, particularly when more rivals to the Throne appeared on the Horizon. In 1487, an Earl of Warwick look-alike named Lambert Simnel pretended to be Edward IV's nephew. Supported by his Royal 'aunt', the Duchess of Burgundy, and 'cousin', the Earl of Lincoln, he led an Irish invasion of the country. Sir John was made a knight-banneret and led the English response. The two forces met at the Battle of Stoke, near Newark in Nottinghamshire, on 16th June. Cheney was triumphant, Simnel captured and Lincoln amongst the dead. He returned home a national hero, but there were family repercussions, for the Earl's sister was married to Cheney's step-son, the 3rd Baron Stourton.
Shortly afterwards, Sir John was created Baron Cheney, when he was called to parliament as such, and he also gained a fine Northern residence in 1488 when he was appointed Constable of Barnard Castle in County Durham. In March 1489, he was again fighting for the King, this time in Brittany. Along with Robert, Lord Willoughby, he led an expeditionary force of 6,000 men to defend the little independent Duchy against the French king's ambition to marry its heiress. A five month campaign included a number of indecisive encounters but was ultimately fruitless.
Back in England, Lord Cheney continued to sit in the House of Lords until 1495, when, although he remained a Privy Counsellor, he probably largely retired from public life to Enborne or Stourton Caundle. He was certainly made the Dorset Keeper of Blagdon Park at Cranborne in that year. Lord Cheney died on 30th May 1499. Records indicating he died two years previously have been interpreted by some authors as showing that he and Margaret had a son, also named John, who predeceased him. The Baronry certainly became extinct upon his death. His wife survived him by four years. Lord Cheney's heir, however, was his eighteen-year-old nephew, Francis, the son of his elder brother, William, but he died in 1512, so the ultimate heir was Francis' half-brother, Sir Thomas Cheney, who was to become famous as Lord Warden of the Cinque Ports. Despite this, because of the way the original agreement for Lord Cheney's Berkshire lands had been drawn up, they passed to his childless brother, Sir Robert, and then to his nephew, John, the son of his brother, Sir Roger. This John was father of the Winchelsea, Dover and Berkshire MP, John Cheney. Lord Cheney was buried beneath a superb alabaster effigial monument in the chantry chapel of his old friend, Bishop Beauchamp, in Salisbury Cathedral, where his brother, Edward, was Dean. The chapel was demolished in the 18th century, but his armoured effigy with long flowing hair still stands in north aisle of the nave.