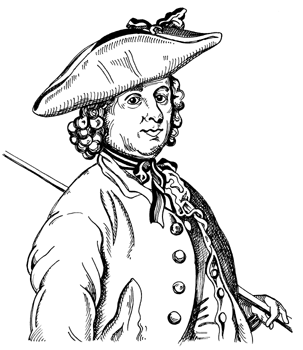 Hannah Snell (1723-1792)
Born: 23rd April 1723 at 25 Friar Street, Worcester, Worcestershire
Female Soldier, Marine & Sailor
Died: 8th February 1792
at Bedlam Hospital, Bishopsgate, Middlesex
Hannah was born in 1723, the daughter of Samuel Snell, a Worcester hosier and dyer, and Mary Williams, his second wife. Her parents both died when she was seventeen but, three years later, she found short-lived happiness with a Dutch seaman, named James Summs, whom she soon married. Despite her husband turning out to be a nasty-piece-of-work, ill-treating her and disappearing when he found she was pregnant, the young girl continued to love him deeply. After the birth and subsequent death of their child, she determined to track him down. So, borrowing a suit of clothes from James Gray, her carpenter brother-in-law, she travelled first to London and then to Coventry where she was pressed, under his name, into General Guise's Regiment of Foot!
It was 1746 and the Scottish Rising was in full swing. So the incognito Hannah marched with her regiment to Carlisle. One story says that it was there that she somehow incurred the wrath of her sergeant and was ordered to receive six hundred lashes, an excessively harsh sentence for one considered a mere boy. She received five hundred and miraculously still managed to conceal her sex. Possibly Hannah had decided she would not find her husband in Scotland and had tried to desert. She was certainly later successful in this respect but had, apparently not been put off by the military life and journeyed south to Portsmouth, where she enlisted in Fraser's Regiment of Marines, presumably hoping to travel abroad where she assumed her seafaring husband would be. Hannah was appointed assistant-steward and cook to the officers' mess on the sloop 'Swallow', and sailed to the East Indies on attachment to Admiral Boscawen's fleet.
Having failed to take Mauritius by surprise, the Admiral made for Fort St. Davids, on the coast of Coromandel, where the marines were disembarked to strengthen the army besieging Araapong. Hannah found herself at the centre of the fighting and witnessed the explosion of the enemy magazine which ended the engagement. There was subsequently a march on Pondicherry to cope with, including the fording of a chest-high river whilst being fired on by the French. Hannah was wounded in the groin during one attack, but again managed to preserve her secret by seeking the help of a native woman in extracting the bullet. All told, she is said to have received a dozen wounds, of varying degrees.
Having made a full recovery, Hannah was made an ordinary seaman. She served in this position upon two ships and gained the nickname of 'Molly' because of the smoothness of her face. She was good-natured and popular though, so, having mixed well with her fellow sailors, she was soon able to take on the, more discreet, name of 'Hearty Jemmy'. Whilst in Lisbon, Hannah finally heard some news of her husband, but, unfortunately, it transpired that he had been executed in Genoa. Her efforts to find him had been in vain. So, when the man-o'-war 'Eltham' paid off at Gravesend in 1750, Hannah finished with her tour of duty, and with her disguise.
Tales of Hannah's exploits quickly spread throughout the country and were even published in print. She took to appearing on stage, at the London theatres. Dressed in uniform as a soldier or a marine, she would go through her old drill-motions and sing appropriate ballads. In 1751, she even went on tour to Bath and Bristol, and it may have been at this time that Hannah became acquainted with the town of Newbury. In the meantime, the Duke of Cumberland was successfully petitioned to place her name on the military pension list and her battle-wounds led to her receiving an annuity as a Chelsea cut-pensioner. Never one to look a gift horse in the mouth, Hannah took on a public-house in Wapping, naming it 'The Female Warrior.' The pub sign represented her in regimental dress on one side and marine uniform on the other, with the inscription 'The Widow in Masquerade'.
By the mid-1750s, Hannah was probably living in Newbury in Berkshire and, on 3rd November 1759, she married, for a second time, in St. Nicholas' Church there, to a journeyman carpenter named Samuel Eyles. He was probably a relation of William Eyles, who had a carpentry business in the town. Hannah was heavily pregnant at the time and a son, George Spence, was born soon afterward. A second son, Thomas, followed four years later. Upon Samuel's death, she remarried again in 1772, to Richard Habgood of Welford, at the chapel in nearby Wickham. Together they seem to have moved to the South Midlands, although Hannah is also reported again in Wapping and also in Weston Longueville in Norfolk. However, her son, George, became a London attorney and, by 1785, Hannah had settled near him in Stoke Newington. Unfortunately, the symptoms of insanity began to develop in her only four years later and she was removed to Bedlam Hospital, where she died in 1792, aged sixty-nine. She was buried among the old soldiers at Chelsea Hospital as she had always wanted.