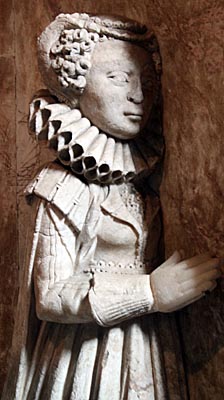 Eleanor Poole, Lady Fettiplace
(1570-1647)
Born: circa 1570 probably at Pauntley, Gloucestershire
Cook and Household Manager
Died: 1647 probably at Sapperton, Gloucestershire
Eleanor was the eldest daughter of Sir Henry Poole, of Sapperton House in Gloucestershire, and his wife, Anne the daughter of Sir William Wroughton of Broad Hinton in Wiltshire. She was named after her maternal grandmother and was probably born, and certainly grew up, at Pauntley Manor in Gloucestershire. This was a secondary family home which had been inherited from her paternal grandmother, a collateral descendant of the famous 'Dick Whittington' (husband of Alice FitzWarin) and the last of the Whittingtons of Pauntley.
Early in 1589, Eleanor's grandfather, Sir Giles Poole died. He had begun building a great renaissance mansion at Sapperton which was to rival Longleat, the home of Anne Wroughton's brother-in-law, in Elizabethan splendour. This, still unfinished, he left to Eleanor's father. Eleanor herself received a magnificent £400 which was, very soon afterward, to be used as her marriage portion when she wed Richard Fettiplace of Appleton in Berkshire, later that same year.
Whilst the Pooles were fashionable, newly landed and upwardly mobile, the prestigious name of the Fettiplace family, whilst ancient and well respected, was not in the best of financial shape and lacked the connections at Court which it had once held in abundance. The match, therefore, brought great advantages to both parties. However, in order to move ahead with the alliance, Richard's father, Besells, appears to have agreed to first set his estates in order. That year, he sold off a number of his Berkshire manors, including Ockwells in Bray, the old family seat at East Shefford and Compton Beauchamp, which was taken on by Eleanor's father. Eleanor and Richard's first child was born in 1590 and five others followed over the next few years. They lived at the splendid old Norman manor house at Appleton, along with Richard's parents and siblings, some of whom were younger than Eleanor's own children. There would have also been some twenty servants and the nearby manor house at Besselsleigh was used as a kind of overflow for younger members of the family.
In June 1600, Eleanor and her husband attended the wedding of Henry Somerset, Lord Herbert, the son of the Earl of Worcester, and Lady Anne Russell, the grandaughter of the Earl of Bedford. The bride's mother, Lady Russell (previously Lady Hoby), was their near neighbour from Bisham Abbey in Berkshire. The wedding festivities took place at the Hoby town house in Blackfriars, the chief guest being Queen Elizabeth herself. Eleanor's father appears to have used his influence with Robert Cecil, the Secretary of State and Lady Russell's nephew, to procure a knighthood for his son-in-law at this event. Sir Richard Fettiplace's new title, and the sumptuous wedding, subsequently became the talk of London society. Though he seems to have been looked upon as something of a country cousin by the famous correspondents, Carleton and Chamberlain, his position certainly allowed him to attend King James' coronation in 1603.
It was the following year that Lady Fettiplace compiled, or at least had copied out, the book of household management which was to make her famous centuries after her death. A huge collection of early 17th century recipes, remedies and housekeeping advice, it is one of the earliest surviving works of its kind and provides an amazing insight into the culinary skills, dietary habits and the general running of a large Jacobethan household. The gardens, orchards, dairy and farmland of the Appleton estate provided almost all the produce she required to feed family, guests, servants and, at seasonal feasts, even the wider community. Her cooking was simple and decorative, with subtle flavours. Her specialty appears to have been crystallized fruit. Many recipes were sent to her by friends and relatives, including tobacco water and syrup from Sir Walter Raleigh. As well as being highly literate, Lady Fettiplace was obviously exceptionally organised. It was in 1604 that Sir Richard and his father founded an elementary school for the children of Appleton and Besselsleigh, but the locals also benefitted from Lady Fettiplace's benevolence; for her medicinal knowledge, recorded in her work, must have made the manor a considerable dispensary. There were literally hundreds of cures for insomnia, back ache, stomach ache, coughs, failing eyesight and even the plague, as well as other dressings, plasters and potions. Some recommended by well-known doctors such as Shakespeare's son-in-law, John Hall.
In 1609, Besells Fettiplace died and his widow moved out of Appleton Manor. Although Lady Fettiplace had probably be running the household for some years, she was now full mistress in name also. Unfortunately, her own husband, Sir Richard, died only six years later and was buried in Appleton Church. Like her mother-in-law, Eleanor retired from Appleton. She set up home at her father's, now completed, seat of Sapperton House. He died the following year, leaving Lady Fettiplace £500 to replace her grandfather's bequest and his coach with all its furnishings, including two geldings to pull it and two further horses, one trained in carrying a lady side-saddle. She herself lived on for another twenty-one years, marrying a citizen of Gloucester named Edward Rogers in later life. He died in 1623 and she remained a widow for the rest of her life.