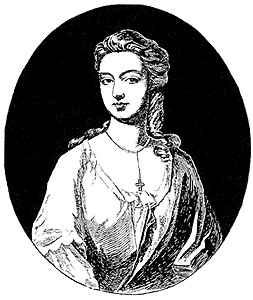 Arabella Fermor (1696-1737)
Born: 1696
Society Belle
Died: 1737
Miss Arabella Fermor was the daughter of Henry Fermor Esq of Tusmore in Oxfordshire and his wife, Helen, the daughter of Sir George Browne KB of Great Shefford Manor in Berkshire. The fame of her beauty and her charms, as celebrated both by poets and painters, has come down to posterity, for she was the belle of London society in the early years of the 18th century.
There are three known portraits of her. Mary Russell Mitford describes one thus:
Mrs. Lenoir's nieces possess a portrait of the lovely Arabella Fermor, when she was twelve or thirteen years of age . . . a high broad forehead, dark eyes richly fringed and deeply set, a straight nose, pouting lips, and a short chin finely moulded. The dress is dark and graceful, with a little white turned back about the neck and loose sleeves.
The next, chronologically, seems to have been painted soon after her marriage (see illustration) and is one of a pair, with the other being of her husband. She is depicted as young and very charming; two long curling locks resting on her shoulders. The third portrait formed part of the collection of Mr. Hartley of Bucklebury House (Berkshire) and is said to be by Sir Godfrey Kneller. It is of a woman in the prime of her beauty and grace; the pose is very elegant, and the colouring charming; in it she still wears the fashionable love-lock of the day. All three have much individuality and many points of resemblance. Hair of a warm golden shade, a slender neck and sloping shoulders, almond-shaped eyes with well-formed level eyebrows, are characteristics of them all. In fact, what is so often not the case, the representations of beauty which artists have handed down to us fully bear out in this case the praises of contemporary writers.
Among these, the now not much read poet, Parnell, sings of the dismay of the "jeunesse dorée" of the time when this fascinating lady left London for the country in the Summer:
From town fair Arabella flies;
The beaux, unpowdered, grieve;
The rivers play before her eyes,
The breezes softly breathing rise,
The spring begins to live....etc
But in spite of the admiration of the world of fashion, which she no doubt enjoyed in her lifetime, it is probable that the lady would not have been remembered had she not become the inspiration for the most successful of all Alexander Pope's poetical works, 'The Rape of the Lock'. The incident which suggested its composition was an indiscretion of which Lord Petre, a young man of twenty, had been guilty. Unbeknown to the fair lady, he had cut off and stolen a lock of her hair. She was very angry and a serious quarrel took place between the two families. Whereupon, Pope's friend, John Caryll of Lady Holt (Sussex), proposed that he should write something slight and amusing on the subject, in the hopes that good-natured humour might appease the ill-feeling that had been excited.
The poem was in every way suited for its purpose. Unfortunately, however, Pope, was not personally acquainted with Mistress Arabella and he published his work without asking her leave. Moreover, he appended to it a motto, which was taken by her friends to imply that she had asked him to compose the poem. Instead of mending matters, he, therefore, only made them worse, drawing another quarrel upon himself. In consequence, Pope was obliged to bring out another edition, suppressing the objectionable motto and prefixing a propitiatory letter of dedication instead. In this, he assured Arabella that the incidents of the poem were all "as fabulous as the vision at the beginning, except the loss of your hair, which I always mention with reverence; . . . the character of Belinda as it is now managed resembles you in nothing but beauty....It will be vain to deny that I have some regard for this piece since I dedicate it to you....If it had as many graces as there are in your Person or in your Mind; yet I could never hope it should pass through the world half so uncensured as you have done." The lady seems to have been pacified and, perhaps, even accorded Pope her friendship.
In 1715, at the height of Arabella's fame, a Berkshire gentleman, Francis Perkins of Ufton Court, won her hand in marriage. The two were actually 9th cousins, but it is unlikely that they were aware of the relationship. For the wedding, Pope wrote her an almost affectionate letter. He says, "It may be expected, perhaps, that one who has the title of poet should say something more polite on this occasion, but I am, really, more a well-wisher to your felicity than a celebrator of your beauty. Besides, you are now a married woman, & in a way to be a great many better things than a fine lady, such as an excellent wife, a faithful friend, a tender parent, & at last, as the consequence of them all, a saint in heaven." While Arabella's husband settled upon her the "messuage commonly called Ufton Court, now in his own occupation, & all that farm of Ufton known as Poole lands & church grounds. Also the farm called Ashpoles, then in the occupation of John Berrington, the bailiff [there is a plot still so called not far from the church]. Also the farms called Snowsewick & Penniswick, & other lands in Buscot, & the messuage & farm called Great Balhampton, in the parish of Steeple Langford, co. Wilts. Also Perkins' Farm in Hanging Langford - in all of the value of £600 yearly.
There is a tradition that it was for Arabella Fermor that Ufton Court was very much refashioned and enlarged. Certainly one half of the frontage was, prior to further alterations made in 1838, of the style prevalent at the time of her marriage. Parts of the interior, also, were modernized; the hall and dining-room, while retaining their Elizabethan ceilings, were entirely re-panelled, and the style would fix this alteration also to early in the eighteenth century.
Arabella bore to her husband one daughter, also named Arabella, who died in childhood, and five sons. Francis Perkins died in 1736, leaving his wife £52-10s for her support, but Arabella only survived him by a year.
Edited from A. Mary Sharp's "History of Ufton Court" (1892).