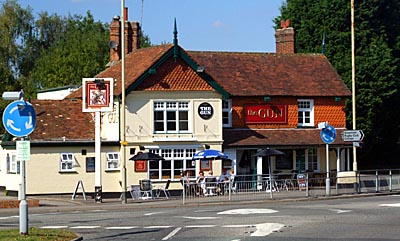 Wash Common
Famous Battle Site
Mighty oak trees once grew all over Wash Common and it was widely rumoured in the 16th century that Berkshire oaks went to built the ships that defeated the Spanish Armada.
The Common was in the thick of the fighting during the First Battle of Newbury. Prince Rupertís Cavalry were positioned here, and also the Kingís artillery which kept up continuous bombardment of the Roundhead troops on Round Hill. The returning fire was brutal. The Falkland Memorial records the heroic death of the Royalist Viscount Falkland. His body was taken to nearby Falkland Farm where he may still walk. It was at this same farm that his comrade, Sir Jacob Astley prayed:
Oh Lord, I may be very busy today.
I may forget thee,
But please do not forget me.
The Earl of Caernarfon (from nearby Highclere (Hants)) was also killed in the battle during a reckless cavalry charge. He had earlier measured a farm gate with his sword to ensure that it was wide enough to cope with all the Roundhead prisoners he was going to return with. However it was not prisoners, but the poor Earlís dead body, which was to pass through the gate! Three large burial mounds on the recreation ground, south of Essex Street are said to be where many who fell in the battle were buried.
See also Enborne.