Beenham's Heath

Small Hamlet on the Moor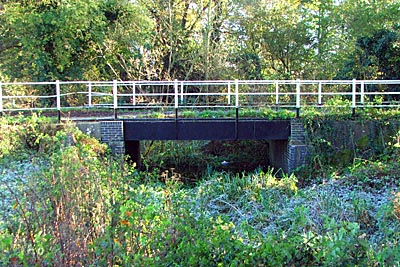 The ghost of a pretty sixteen-year-old is still sometimes seen waiting for her lover at the ancient river crossing of Callin's Bridge (at the top end of Callin's Lane). The unfortunate girl had found herself part of a local witches' coven before her sweetheart had shown her the error of her ways. He was a royalist soldier away fighting in the Civil War. Just before he arrived home, an angry roundhead, fleeing a small local battle, smashed up the poor girl's house and, finding her alone on the bridge, attacked and murdered her. Her spirit is thought to lead watchers to the graves of the soldiers her attacker had killed in the skirmish. The Waltham St Lawrence burial registers record another chilling death: the wife of Ralph Medwin who lived in this area, at the south-west corner of 'Ha[ ] Inneings,' on the border with Binfield parish:
1656, March 9th: Mabel Medwin, a witch about 68 years old,
arraigned for witchcraft at Reading February 29th,
condemned March 2nd, and executed March 5th.
Just below Callin's Bridge are the remains of an old moat, all that remains of the original Beenham's Farm. The present complex retains a 16th century weatherboarded barn which may have belonged to Ralph Newbery who lived on the site. Followed by several members of his family, he travelled to London and became a famous publisher in the 16th century. His brother's descendent, John Newbery, is particularly noted for being the first proper publisher of children's books.
Read more history of Beenham's Heath in David Nash Ford's book, 'East Berkshire Town and Village Histories'.
Click to Order direct from the Author.
NEW BOOK

Whether you are from East Berkshire or just visiting, this book is the place to find out all about the history of some 126 different towns, suburbs, villages and hamlets around Windsor and Maidenhead, Slough and Bracknell Forest. Join David Nash Ford from berkshirehistory.com as he examines the structures, people and events that have shaped each place. Some of these histories were first published in part here on this website, but they have all been considerably expanded and are joined by many new histories of places often missed by historians, including those which only joined Berkshire in 1974 or later. Click for full details and purchase options.