RBH Home
Maps & Travels
Articles
Legends
Towns & Villages
Castles & Houses
Churches
Biographies
Gentry
Family History
Odds & Ends
Mail David

Tales of Turpin
Places to Go
The Old Manor in Bracknell High Street is one of the only ancient buildings left in the town. "Dick Turpin's Cottage" was apparently the eastern part of the house, which was obviously once separate. It now houses the restaurant. There is some idea, however, that the cottage is now the house called Whynscar in Grenvillle Place. The secret passageways have long since been blocked up, and no sign of them can now be seen. They were apparently entered from behind a painting above the fireplace in the old dining room with the exit to the rear of the building. Another hiding place is, however, on display: a well preserved priest hole in the eerie lounge of the same name. The Hind's Head used to stand not twenty feet across the street from the Manor, on the corner of what was Church Road and London Road, until it was pulled down in 1965. The site is now occupied by Bracknell College. The Bull Inn stands further down the High Street and Holy Trinity Church is not far away, enclosed by the inner and outer ring roads.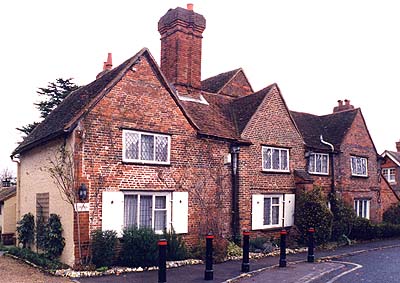 Moving up county to Wallingford, the George Hotel is easily found on the north side of the High Street in the centre of the town. Back in East Berkshire, the Dew Drop Inn at Burchetts Green is hidden away. It stands off the main Marlow Road, being approached by a rough track from Honey Lane. The little hamlet of Stubbings with its church of St. James the Less and accompanying vicarage lies on the A423 east of Maidenhead, on the edge of what is left of the Thicket that was so frequented by highwaymen. To the north-east in Pinkneys Green is Hangman's Corner at the Cookham Dean junction on the A308. Taking this turning will lead to "Turpins Lodge" on Cookham Dean Common. "Aunt Turpin's Cottage" in Maidenhead once stood in the appropriately named Highway Avenue, now part of the town's western suburbs. The area has all been developed as a housing estate.
"Turpins" in Sonning is a charming little cottage in an idyllic village and even today you can imagine Dick Turpin hurrying up the garden path to knock at the door. It sits at the corner of Pearson Road near the gates of Holme Park, giving Dick a ride straight there, down Sonning Lane from the old coach road. The Dog Inn, it seems, stood around the corner, in the High Street, where the present village stores are.
Dick Turpin connoisseurs are recommended to visit some sites beyond Berkshire too: his birthplace, the Bell Inn in Hempstead (Essex); his condemned cell in the York Castle Museum (Yorks) and his grave in St. George's Churchyard in the same city.
Back to: Tales of Turpin
Back to: Discussion of the Legend