RBH Home
Maps & Travels
Articles
Legends
Towns & Villages
Castles & Houses
Churches
Biographies
Gentry
Family History
Odds & Ends
Mail David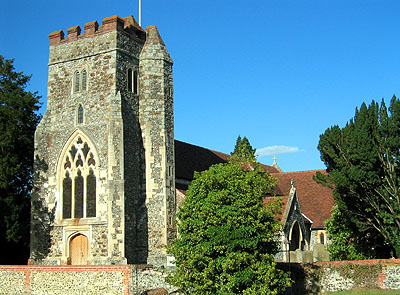 Waltham
St. Lawrence
St. Lawrence's Church
Waltham St. Lawrence Church sits in an idyllic setting in the centre of a quiet village, well away from passing traffic. A farmyard on one side and the superb Wealden-built Bell Inn on the other. The Newbery family who set up one of the earliest printing businesses are buried in the churchyard and scratch marks on the masonry by the main south door are popularly thought to have been made by the devout going on Crusade. Inside, the church gives the impression of being very tall and narrow. The striking Jacobean style pulpit was only made in 1870 from more ancient panelling, but the font is 15th century and shows traces of a lock to keep devil-worshippers away from the holy-water. There is a large wall monument featuring several of the Nevilles of Billingbear House, but it is hidden behind the organ in the north chapel. The south chapel is now used as a church hall.
Architecture: 14th & 15th century flint and stone with Victorian details. Interior demonstrates its Norman origins.
Monuments: Sir Henry Neville 1593 Kneeling figures; Katherine Thomas 1658 Urn on a Column.