RBH Home
Maps & Travels
Articles
Legends
Towns & Villages
Castles & Houses
Churches
Biographies
Gentry
Family History
Odds & Ends
Mail David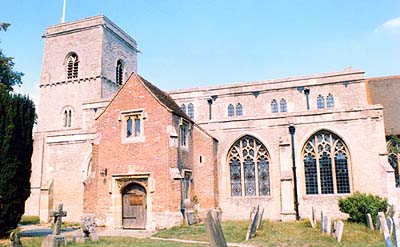 Sutton Courtenay
All Saints' Church
Sutton Courtenay Church is full of fascinating history. The 14th century nave is reminiscent of the great wool churches of Norfolk. The interior shows bizarrely reused Norman zig-zag work as well as later carved capitals. On the tower door, there are crusader crosses inscribed by soldiers either hoping for or given thanks for a safe return from the Crusades. The main south door is surrounded by a fine brick porch built with money left to the poor of the parish by the 15th century Bishop Thomas Bekynton of Bath & Wells! His rebus is prominently displayed. Prime Minister Herbert Asquith and author, George Orwell, are buried in the churchyard. Fittings include a nice 17th century wineglass pulpit (installed in 1901) and a beautifully carved mid-12th century font with fleur-de-lys decoration. The whole building was nearly destroyed during the Civil War when munitions stored by the parliamentarian vicar exploded in the church.
Architecture: Early 14th century church with a late Norman Tower and brick porch of about 1500.
Monuments: Reginald Nutt late 15th century priestly effigy.