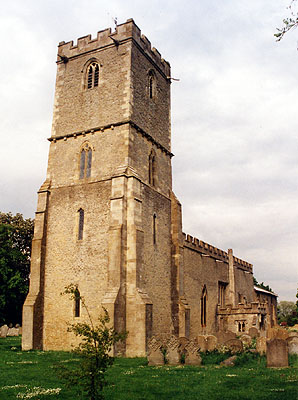 Stanford in the Vale
St. Denys' Church
St. Denys' Church is a very large church that dominates Church Green as you enter the old part of Stanford-in-the-Vale from the south. The nave dates back to the 12th century and the north aisle was added two hundred years later. It never did acquire a south aisle. The tower was built in the 13th century and extended to its present height another two hundred years on. Its original height is clearly visible.
The chief interest of the interior is its piscina of the decorated period, with a fascinating pyx (container for the sacramental bread) or reliquary in the canopy. This is believed by many to have once held a finger bone of the building's patron saint, lent to this little village by Abingdon Abbey.
The church porch features the arms of a rose and fetlock impaling a ragged staff which represents the union of Richard, Duke of Gloucester (later King Richard III) with Anne Neville, the youngest daughter of Warwick the Kingmaker. The structure was built to celebrate their marriage in 1472. Anne's father had been lord of Stanford and she is said to have stayed at the old manor house before her marriage, despite this being a rather obscure manor amongst the many owned by the Earl. Perhaps she was on her way from Warwick to Caversham.
In the churchyard is an ancient gypsy gravestone over the remains of Gravelines Boswell. The Boswell's were the largest and most important gypsy family in the country and Stanford was once a popular stop for them.