RBH Home
Maps & Travels
Articles
Legends
Towns & Villages
Castles & Houses
Churches
Biographies
Gentry
Family History
Odds & Ends
Mail David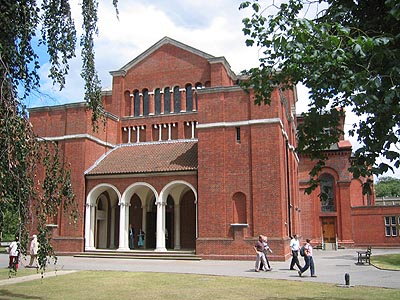 Sandhurst
Royal Memorial Chapel
at the
Royal Military Academy
The Royal Memorial Chapel at RMA Sandhurst has a very special place in the hearts of all those officers who serve, or have served, in the British Army. The chapel you see today is actually the third to be built at Sandhurst. The original chapel of 1813 is still part of Old College and is known today as the Indian Army Memorial Room. The second chapel, narrow and rectangular in shape, was built on this site in 1879. However, it is positioned at right angles to the present building. The former altar and sanctuary can still be seen in the Chapel of Remembrance (Side Chapel), whilst the original entrance was beneath the present organ. In 1919 plans for the present chapel were agreed and work began. The new enlarged building was reconsecrated by the Archbishop of Canterbury in May 1921, although work continued on the West end for a further 16 years.
In 1939, the Royal Military College Sandhurst went onto a war footing, becoming an Officer Cadet Training Unit (OCTU). It was in January 1947 that the former Royal Military College and the Royal Military Academy Woolwich (which had closed in 1939) were amalgamated as the Royal Military Academy Sandhurst. Today, the chapel serves as the church of the Academy.
Much that you see in this Royal Memorial Chapel is the gift of a Corps or Regiment, of a relative, or of one of thousands of individuals. The memorials range from before 1914, covering wars and campaigns in South Africa, Sudan, Burma, Afghanistan and India, to the two World Wars, and to many subsequent campaigns in which the British Army has been involved since 1945.
Since 1947, the motto of "Serve to Lead" has been taught to, and adopted by, generations of Officer Cadets. The memorials in this chapel are evidence of how their forebears, as well as more recent cadets, have given their lives in service to their country, their Regiments and their soldiers.
Edited from the Royal Military Academy Heritage Day Programme (2004).