RBH Home
Maps & Travels
Articles
Legends
Towns & Villages
Castles & Houses
Churches
Biographies
Gentry
Family History
Odds & Ends
Mail David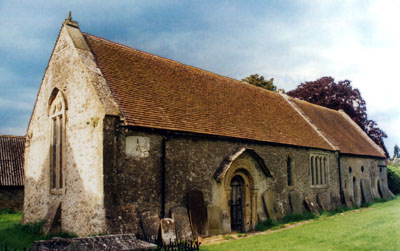 Hatford
St. George's Church
Hatford Old Church is a rather quaint little 12th century two-cell building. Just what you might expect for a church serving such a small community. The main entrance has rather fine Norman zig-zag decoration and rare contemporary metalwork on the door. Inside is a decorated gothic tomb recess and a much defaced late 13th century effigy of a man in civilian dress, holding his heart in his hands - perhaps indicating a heart burial.
The building is famous for being the scene of the marriage between Anne Dudley, the widowed Countess of Warwick, and Sir Edward Unton of Wadley House at Littleworth in Faringdon on 29th April 1555. The lady was the daughter of Edward Seymour, the Duke of Somerset. One can only imagine the pomp and ceremony and waving of heraldic banners - or perhaps not. Some historians think the marriage may have taken place in secret so as not to upset the Catholic Queen Mary who had executed Anne's father-in-law and imprisoned her husband for opposing her reign.
For many years the nave was a complete ruin, the chancel being used as a mausoleum to Rev. Samuel Paynter (d, 1893) in his red granite sarciphagus, while a new church was erected in 1873. This is now a private residence as the old church was fully restored in 1971.