RBH Home
Maps & Travels
Articles
Legends
Towns & Villages
Castles & Houses
Churches
Biographies
Gentry
Family History
Odds & Ends
Mail David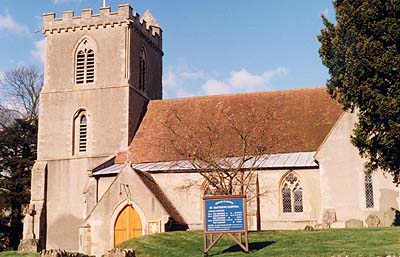 Harwell
St. Matthew's Church
The manor being owned by the Prince Edmund, Earl of Cornwall, the Rectors of Harwell were often members of his staff: notably, a treasurer and a keeper of his wardrobe. The church is notable for its rare late 13th century screen and the delightful chancel arch capitals. They are carved with figures of a dragon biting a lady and a man with his hand to his ear. Nearby is also a jolly little man with a bottle! During the 1960s, an early herring-bone nave was excavated below the present one.
Architecture: Church largely of c.1200 with 14th century chancel.
Monuments: John Jenners 1599 Brass effigies.