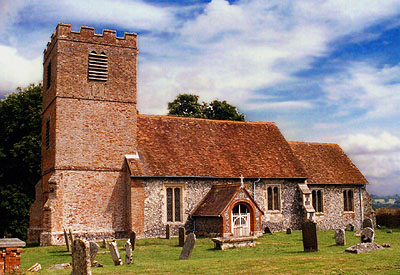 Hamstead Marshall
St. Mary's Church
The earliest portion of this church is the 12th century south doorway, but the basis of the building appears to be 13th century, perhaps erected at the time that it achieved parochial status in 1241. Before that, it was a 'field' church with its own burial ground, under the control of the local minster at Kintbury.
A north aisle was added in about 1350 as a result of a boom in the local wool trade experienced by most of Berkshire. King Edward III would have known these portions well when he worshipped here while spending Christmas at the manor in the 1350s. However, only forty years later, the whole place was in a state of disrepair, perhaps due to an absentee vicar. He was told to put things in order of he would be fined twenty shillings!
The Straight headed windows were inserted in the early 16th century. Then, presumably under the patronage of the very young lord of the manor, William Craven (later Earl of Craven), the Berkshire brick tower was built to replace an earlier version around 1622. The double-decker pulpit with sounding board bears this date but was donated by Lady Parry, the widow of Sir Thomas Parry Junior the estate's previous owner. It bears her initials, and most of the interior fittings, such as the font and box-pews, are probably contemporary. There was a major restoration in 1893 but, fortunately, the church largely escaped the effects of the over-enthusiastic Victorians.
There is a memorial to Sir Balthazar Gerbier, the architect who built Hamstead Marshall Park and was subsequently buried in the church; but none to Fulwar Craven, the 4th Lord Craven, who is known to also lie here.
This is not the official Hamstead Marshall Church website. Please do NOT mail me about use of the church. Visit the C of E's Church Near You website instead.