RBH Home
Maps & Travels
Articles
Legends
Towns & Villages
Castles & Houses
Churches
Biographies
Gentry
Family History
Odds & Ends
Mail David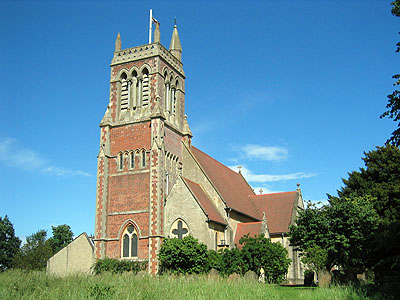 Easthampstead
St. Michael &
St. Mary Magdalene's Church
The site of the Mother Church of Bracknell, at Easthampstead, is very ancient; and its prominent position on a hill, coupled with the dedication to St. Michael, destroyer of the Devil (and pagan religion), suggests that it might have been a place of pre-Christian worship.
The old church, dating from at least 1159, would have been used by the Kings of England, when visiting their nearby hunting lodge, since the time of King Cynegils. In 1863, however, it was described as being "of the worst character". Repairs were estimated at £3,000. The present building was therefore erected between 1865 and 1867 and the expenses met be Caroline, the Marchioness of Downshire.
Easthampstead Church is like a tardis. It doesn't seem that big from the outside, but within, it is just vast. This seems to be partly an optical illusion, created by the extremely high pitch of the roof. It is a beautiful building decorated in the best traditions of the Arts and Crafts movement, including four superb windows by Sir Edward Burne-Jones. The great east window featuring the building's patron saint at the Last Judgment (from the Book of Daniel) is just breath-taking, and probably the artist's best work in glass to be seen anywhere. The church's joint-patroness appears in the east window of the Resurrection Chapel, with an unusual and rather pleasing depiction of St. Maurice's trial alongside. The fourth B-J window, again of St. Michael, is hidden in the annex. Ruskin, another leading light of the pre-Raphaelite movement, had been a pupil of the vicar, Osborne Gordon, and this may have been how the church came to be graced with such amazing works of art.
A number of ancient features have been retained in the building, particularly the monuments which are mostly in the Lady Chapel. There is a small brass with demi-figure of one Thomas Berwyck (1443) and good heraldic ledger stones to the Trumbulls of Easthampstead Park. Monuments to their successors, the Downshires, hang above, alongside Sir William Trumbull's wordy monument. His father's is in the nave, as is that to John Thaddeus Delane, Editor of The Times. By the font is a plaque to the memory of Frederick Jackson, the leader of the South Polar expedition of 1894-7. His grave (supposedly in the shape of an ice berg) is in the churchyard. The font itself is old, but very plain, while the pulpit incorporates 17th century panels from the previous version.