RBH Home
Maps & Travels
Articles
Legends
Towns & Villages
Castles & Houses
Churches
Biographies
Gentry
Family History
Odds & Ends
Mail David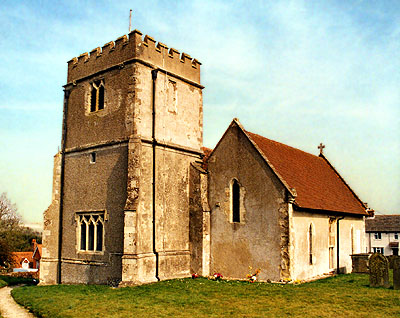 East Ilsley
St. Mary's Church
East Ilsley Church stands on a very prominent hill in the middle of the village. Some believe the first church built here was that recorded by Robert of Gloucester as having been put up by King Canute in memory of those who fell on both sides, around a thorn tree, at the Battle of Ashdown. The name Ilsley means 'place of conflict' but whether the single thorn tree stood here or on the adjoining Thorn Down is unclear. The Ilsley site is probably an ancient pagan place of worship, so a sacred tree is quite likely to have stood there.
The nave of the present building dates from the 12th century, as does the unusual nine-sided font. This little two-cell structure was given to the Knights Templar by King John in 1199. The warrior monks largely rebuilt the place in about 1240, replacing the chancel and adding the south aisle. The tower was built on the end of the nave in the 14th century, but the north aisle only dates from 1845.
Internally, the walls can be seen to incline outwards because of their great age. There are some interesting old carvings including a devil with a man's soul in his mouth. A brass to the wife of William 'Hildesley' (1606) has , unfortunately lost its figured subject, but the inscription is still of interest as it commemorates a member of the great sheep-farming Ilsley family who owned Ilsley Manor for many generations through both the Medieval and Tudor periods. They have an even an older brass in East Hendred Church. Descendants of this family can be found all over the World.
During the Commonwealth (1654), the Rev. Joseph Barnes of East Ilsley had a complaint lodged against him by a number of parishioners and he was subsequently attacked by a zealous puritan in the village who broke his leg. The poor man was therefore unable to attend the inquisition into his conduct, held at Speenhamland (Newbury). Though a third of his flock spoke on his behalf, he was deprived of the living and he and his family almost starved to death, when his position was restored along with that of the King (1660). Not long afterwards, half of the village was wiped out by the plague, the victims being buried in a large pit at the west end of the churchyard.