RBH Home
Maps & Travels
Articles
Legends
Towns & Villages
Castles & Houses
Churches
Biographies
Gentry
Family History
Odds & Ends
Mail David

Bray Church
Monumental Brass to Sir William Laken, S.L., and his Wife, 1475
West Wall of Nave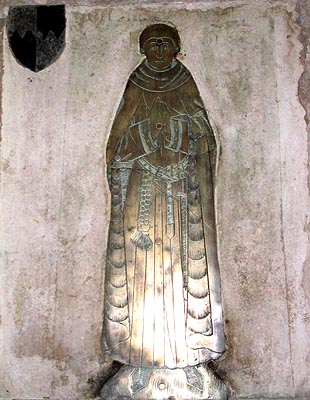 There is an effigy of Sir William dressed as a Justice of the King's Bench but that of the wife is lost. he stands in a long fur lined mantle with hood and coif. The coif is said to have been the principal insignment of habit wherewith Serjeants-at-law on their creation were decked. It was a close fitting skull cap, made of lawn or silk and tied under the chin. Part of his ornamented belt, with rosary and analace, as well as his shoes, have been filled with coloured enamels and some still remain in the capital letters of the inscription.
Serjeants-at-law held a more exclusive and privileged position than one of the King's Counsel. Their permanent rank placing them immediately after Knight Bachelor, and in the court of Common 'Pleas Bar' they had the right of exclusive audience.
Ashmole gives the inscription as below, and says:
"On a brass plate are the figures of a man in long robe with a cap on his head, and his wife by him dressed in the habit of her times and this inscription under their feet:
Here lyeth William Laken, Knt., late Justice of the King's Bench, son of Richard Laken, Knt. William died Oct. 6th, A.D. 1475. Here lyeth also the Lady Sybella, his wife, the daughter, and one of the heiresses of John Syferwast, late Lord of Clewer. On whose Soules God have Mercy. Amen."
He was the third husband of his wife, Sibella, daughter and heiress of John Syferwast, Lord of the Manor of Clewer. Her figure and three of the shields are now lost, the remaining shield bears the arms of Laken: quarterly, per fess indented, ermine and azure.
Extracts from the will of Laken, dated 26th September, 1475: "Item, To the churche of Bray to by a Masseboke xls. Item, To the foure orderes of freres in London iiii, li: to eche of them xxs."
To his son William he bequeathed his "place of Stone" in Kent. To George Laken two books of Law. To his daughter Elizabeth Mortimer, a scarlet gown with the hood, & co.
Description edited from H.T. Morley's 'Monumental Brasses of Berkshire' (1924)