RBH Home
Maps & Travels
Articles
Legends
Towns & Villages
Castles & Houses
Churches
Biographies
Gentry
Family History
Odds & Ends
Mail David

Bray Church
Monumental Brass to Sir John Foxley & his Wives, 1378
North Wall of North Aisle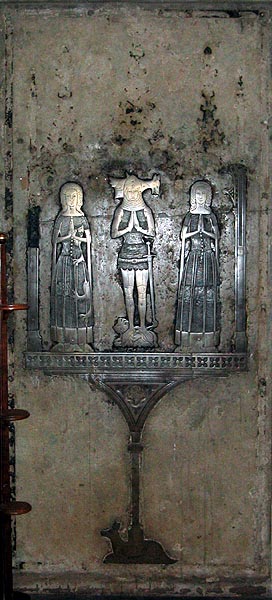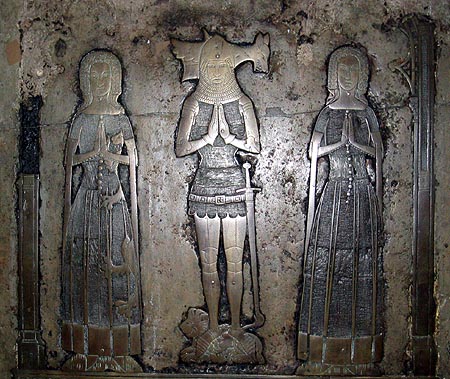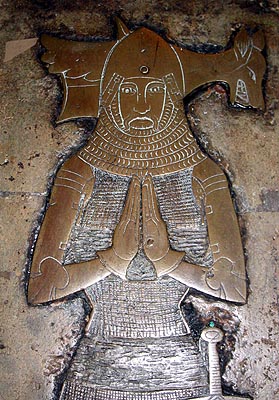 A large bracket brass, the stem resting on a fox couchant, and supporting three figures, the centre one a knight, Sir John Foxley, the most prominent of the Foxley family from Foxley Manor (Bray, Berkshire) and Bramshill Castle (Eversley, Hampshire), whose feet rest on a lion. He wears a camail and hauberk of mail and a very pointed basinet. His jupon is charged with his arms: gules, two bars argent; and he has an ornamented bawdric supporting his sword. His head rests upon a helmet bearing a cointoise and his crest, a fox's head. The female figures, his wife Matilda, a daughter of Sir John Brocas, and Joan Martyn wear nebulee head-dresses framing the face and touching the shoulders, kirtles with tightly buttoned sleeves, and cote-hardies with short sleeves from which hang long liripipes. The cote-hardies of both wives are charged with their husband's arms the one on the right bearing them impaled with a lion rampant, or (for Brocas). The effigies are twenty-nine inches high and in very good preservation and whilst the two female figures are erect, the knight with his head lying on his helm, and his feet resting on a lion, appears as if recumbent.
There was a fine triple canopy, part of the uprights only remaining. Although there is no inscription left, the knight's will, dated 1378, gives instructions to his executors to prepare a marble slab, etc., for his parents, and also directions in detail relating to this brass. The whole is in Latin and the part which gives the directions for his own monument (now fixed on south wall) may be translated as follows:
"Item, I will and order my executors aforesaid to purchase another marble stone suitable for my own tomb, when I shall be buried, and that the stone be prepared with writing with my images in metal; viz, myself in armour, and my deceased wife on the right side of my image, and shown in arms, viz, with my arms and those of this my said wife; and a figure of my surviving wife in my arms to the left of my image."
Ashmole gives the following as being part of the inscription of this brass:
…..jacet Dnns Johannes de…..
…..Novembris, Anno Domini Millims…..
…..Cujus anime propicietur Deus, Amen.
Description edited from H.T. Morley's 'Monumental Brasses of Berkshire' (1924)