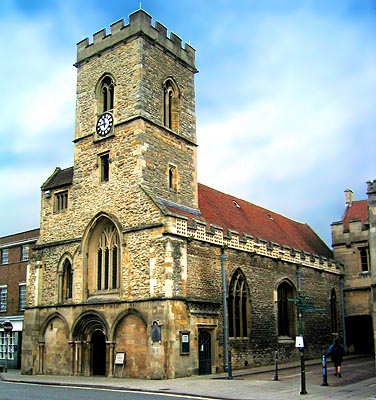 Abingdon
St. Nicholas' Church
The church of St. Nicholas in Abingdon dates from some time before 1184. It was built by the monks of Abingdon Abbey, adjoining the main entrance gate to their enclave, to serve the laymen of the monastery: servants, tenants and visitors.
St. Edmund of Abingdon worshipped here as a child, along with his sisters, the Blessed Alice & Margaret Rich. Their mother was buried in the church, as commemorated by a modern plaque, before her body was removed to the 'The Chapel of St. Edmund's Mother' (officially dedicated to Holy Cross, St. Edmund & St. Guthlac) in the Abbey cemetery, where the monks could better control the flow of pilgrims.
The tower and narthex of the church were added, and the chancel rebuilt, in the 15th century. This was the period in which the present gateway was erected alongside. Unfortunately, the chancel suffered a devastating fire in 1953.
There is a good renaissance style monument to John and Jane Blacknell in a small chapel on the north of the building. They both died on the same day in 1625, presumably of the plague. No wonder it wasn't constructed until over fifty years later. John was the grandson of the man who purchased the old abbey buildings after the Dissolution of the Monasteries. His charity is still administered today and contributes greatly to the upkeep of the church.
The church did not obtain its own parish until 1372 and this was so fragmented that the income could hardly support both its rector and vicar. In 1410, these post were merged and subsequently held by the Vicar of St. Helen's, though the parish remained independent. It has therefore always relied heavily on external readers, lecturers and chaplains; and a number of local bequests have provided for these, particularly that of Rev. Richard Bowles (1811) who gave money for lecturers to attend from Trinity College, Oxford.
This is not the official St. Helen's Church website. Please do NOT mail me about use of the church. Visit the C of E's Church Near You website instead.