RBH Home
Maps & Travels
Articles
Legends
Towns & Villages
Castles & Houses
Churches
Biographies
Gentry
Family History
Odds & Ends
Mail David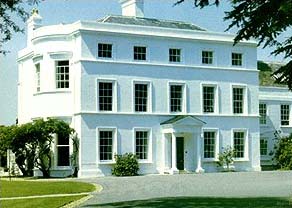 Winkfield Place
Winkfield, Berkshire
The basis of Winkfield Place, at Winkfield Street, is probably late 17th century. In the first half of the following century, it was the home of the Edwards family who where closely involved with the running of the Ranelagh School. In 1751, however, the building was almost entirely rebuilt by the then owner, Richard Buckley. There were various gentlemanly owners throughout the Victorian era.
During the Second World War, the house was used by the Canadian Red Cross and then became the college of Constance Spry of 'Cordon Bleu' cookery and flower-arranging fame. The flowers for Queen Elizabeth II's wedding were arranged by Winkfield Place staff; but the establishment moved out to Farnham (Surrey) in 1989.
Winkfield Place has been divided into Private Apartments. It can however, be easily seen from the entrance.