RBH Home
Maps & Travels
Articles
Legends
Towns & Villages
Castles & Houses
Churches
Biographies
Gentry
Family History
Odds & Ends
Mail David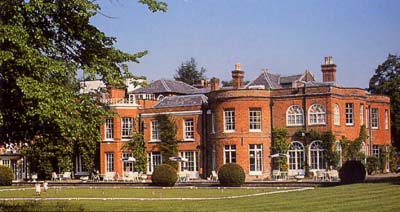 The Oaks
Sunninghill, Berkshire
The Oaks is older than Ascot Racecourse. Built in 1705 for Charles Churchill, son of the first Duke of Marlborough, the house has blossomed over the centuries. Initially, it was owned by Charles and his wife Lady Mary, daughter of Sir Robert Walpole. Lady Mary worked as a Housekeeper at Windsor Castle until her death at the age of 95. From 1846, the house was owned by Robert Blane who had a distinguished career in the army and became Commander of the Bath. For the last five years of his life he was Military Attache in St. Petersburg. He remained at the Oaks until Mrs. Entwistle took over in 1880. Following the military tradition Major Guy Aubyn lived here from 1911 until the arrival of Colonel Horlick at the beginning of the First World War. By this time, the house had become known as Little Paddocks.
Colonel Horlick, of malted drink fame, did much to improve the estate, adding one of the first private swimming pools and the Walled Garden. Colonel Horlick was an acclaimed authority on shrubbery, especially rhododendrons, and much of the display we now enjoy can be attributed to him. His family remained at Little Paddocks until they felt it too large to manage and it was offered to the Barclay School for partially sighted girls, which was evacuated from Brighton in 1941. It remained a School until 1969 and several guide dog graves completed with epitaphs can still be found close to the tennis courts.
After lying empty for over two years, it was purchased by the Hoffman family, well known European hoteliers, and it was they who created the luxurious hotel we find today. Initially, The Royal Berkshire was a great success, receiving much critical acclaim. However, suffering as the economic climate declined and lacking in further capital investment, the Hotel fell into disrepair and, wishing to retire, the Hoffmans sold the Hotel in 1985 to Ladbroke Hotels.
Total refurbishment was required - replumbing, rewiring and reroofing. The existing 52 bedrooms were reduced to 40, and whilst the interior panelling remained the same, it was coated in a grey scumble to echo the contemporary colour themes throughout the building. A much more modern feel was given to the interior fabric, curiously enough by using old fashioned painting techniques. Thus the arts of rag, drag, stipple and marbling have been used to bring the house to life. Further radical changes took place during 1986 and 1986 and the Hotel now boasts 63 bedrooms, including 6 suites, two of which have four-poster beds. Sporting facilities abound with hard tennis courts, croquet, squash, saunas, a Roman style indoor swimming pool and a small gym. We would like to think that the Churchill and Horlick families would approve of the changes we have made.
The Oaks is now the Royal Berkshire Hotel.