RBH Home
Maps & Travels
Articles
Legends
Towns & Villages
Castles & Houses
Churches
Biographies
Gentry
Family History
Odds & Ends
Mail David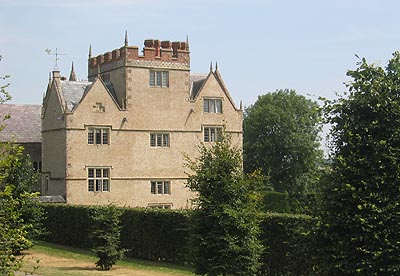 South Fawley
Manor
Fawley, Berkshire
South Fawley Manor was built in 1614 for Sir Francis Moore, the famous Elizabethan lawyer who could have put a stop to the Gunpowder Plot. He had purchased the manor some twenty years previously. The Royalist, Lord Bernard Stuart, and his troop of King's Life Guards quartered themselves there on the night of 19th November 1644, during the Civil War.
It is a three-storey east-facing gabled building with a fine projecting two-storey porch featuring a pilaster flanked square-headed doorway and a space for the arms of Moore impaling Twitty. There is a small embattled tower, on the south-west, containing a massive oak staircase, the upper room of which was said to have been a chapel. The building is of rectangular plan with a small projecting north-west wing which was once the brewhouse. There were originally extra offices and kitchens in this area, but they have long been demolished. A short wing was added on the west side of the tower and the chapel panelling relocated during a major restoration in 1909.
South Fawley Manor is a private residence. It can be seen through the entrance gates.