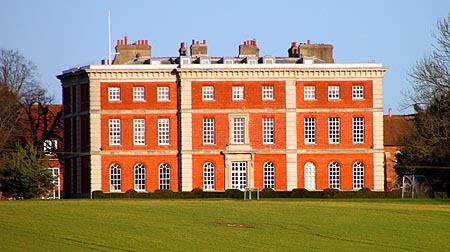 Radley Hall
Radley, Berkshire
George Stonhouse built a fine Elizabethan mansion at Radley, but only traces of this survive in the gateway and walled garden of the present house.
Radley Hall is said to be the finest early 18th century mansion in Berkshire: Three storeys across nine bays of red brick, with Sunningwell limestone dressings. The details are mostlty restrained early Georgian Baroque in style along with some inspired by the late Italian renaissance. It was erected from 1721 by Townesend and Peisley of Oxford for Sir John Stonhouse, a man who had two baronetcies. Thomas Hearne saw it still being built six years later. Capability Brown did some work on the house in 1771 and a young Turner in painted a picture of it eighteen years later. Inside, the wooden staircases are very fine and some of the rooms have other interesting features, such as painted panelling, 17th century woodwork from the chapel at Merton College, Oxford and a Bassae Ionic screen.
In 1795, Admiral Sir George Bowyer inherited the place. His son, also Sir George, tried to find coal on his Bayworth estate and got into financial difficulties as a result. He was forced to rent out Radley Hall and it became the home of the newly founded Radley College in 1847. Other buildings were added, joined to the hall around a cloister. These include a Gothic Revival chapel built after the school purchased the estate in 1889. It has an early 16th century Belgian wooden altarpiece showing scenes of the Passion of Christ. It was given to the school by its founder in order to instill an appreciation of the arts in the boys.
Radley College is an independent school located near Abingdon.