RBH Home
Maps & Travels
Articles
Legends
Towns & Villages
Castles & Houses
Churches
Biographies
Gentry
Family History
Odds & Ends
Mail David

Hendred House
East Hendred, Berkshire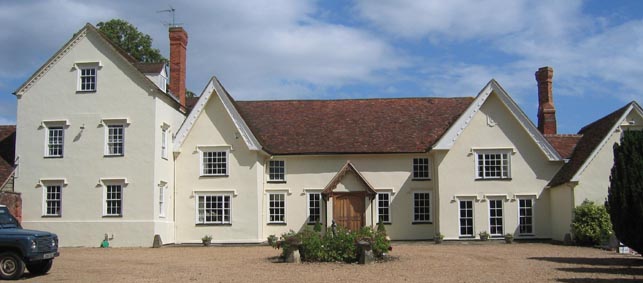 Hendred House is the manor house of Arches, so named after the family who owned it in the 14th century. It was originally owned, in the mid-12th century, by the Turbervilles, a branch of the famous Dorset family. Their descendants, the Eystons, came into possession of the manor in the 1440s and they still live there. They are the oldest family in Berkshire to have remained in residence at the same property.
Hendred House is essentially an H-shaped 15th century hall house. In later centuries an upper floor was inserted in the hall, but this has thankfully been removed, so the room is now open to the beautiful high-pitched roof of curved principals and wind-braces. A modern gallery gives access between first-storey rooms. There is also a fine 15th-century fireplace with a moulded four-centred arch.
The chapel, at the south-east corner of the building, has lancet windows, apparently of 13th-century date. It is said to be one of only three chapels in England, built before the Reformation, which have never been used for Protestant services. The timber-framed section of the house adjoining the western half of the chapel is actually a late 15th-century priest's house. The upper story formerly overhung on the north and west side, but has been underbuilt with Victorian brick. The gable is half-timbered and the barge-boards has some pretty flowing blind tracery.
The chapel was rifled and desecrated in 1688 and, two years later, the house was extended further east.