RBH Home
Maps & Travels
Articles
Legends
Towns & Villages
Castles & Houses
Churches
Biographies
Gentry
Family History
Odds & Ends
Mail David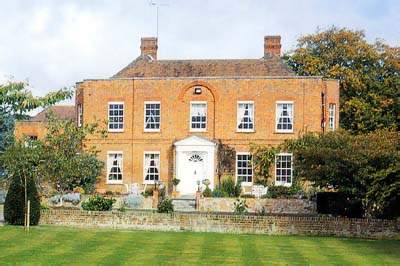 Hare Hatch
House
Wargrave, Berkshire
Hare Hatch House is a handsome south facing Georgian house set in 32 acres of garden, parkland, paddocks and woodland. It is listed Grade II, being of special architectural or historic interest. The list describes the house as dating from the late 18th century but having been rebuilt after being moved to its present site in 1912 from a former position closer to the Bath Road. It is understood that the original position was adjacent to the garage which is thought to have been the ballroom of the old house. Previous owners of Hare Hatch House include the Sutton seed and the D'Oyle Carte (of Gilbert & Sullivan fame) families.
Architecturally, the two storey house is described as being built of brick having a plain parapet with stone coping and a hipped tiled roof with brick chimneys. The principal facade has five bays with sash windows. The central upper window is set in an arched recess. The front door is in a projecting porch with a curved fanlight above in a surround with Doric columns, entablature and pediment.
Inside, the accommodation is on two floors. The well-proportioned rooms have high ceilings and are light and bright. They enjoy views over the formal gardens in front of the house, and at the rear and sides over the parkland and paddocks to woodland. Many of the period architectural features and decorative detailing remain. There is good plaster cornicing in the hall, drawing room and dining room. Both the principal reception rooms have handsome fireplaces.
Harehatch House is a private residence. It was last offered for sale by FPD Savills and Strutt & Parker in 2004.