Elcot Park
Kintbury, Berkshire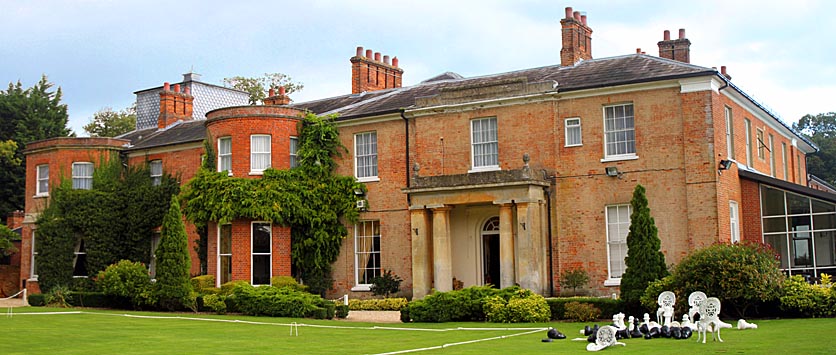 Elcot Park stands on Furzen Hill, just south of the hamlet of Elcot, in the north of Kintbury parish. The first house was certainly erected between 1761 and 1780, so the traditional date of 1768 would seem to be correct. At that time, the land was owned by the Rev. John Craven, the sometime Rector of Wolverton in Hampshire and cousin of William Craven, 6th Baron Craven, from Benham Park. He lived at Barton Court, down on the River Kennet, also in Kintbury, which he held as the inheritance of his first wife, Elizabeth, the half-sister and heiress of Jemmett Raymond of that place. Rev. Craven is thought to have built the first Elcot Park as a dower house for his mother, Elizabeth, who, through her second marriage to the aforementioned Jemmett Raymond was also his wife's half sister-in-law. This lady was apparently the inspiration for the titular character of Jane Austen's novel, 'Lady Susan'. Her daughter, Martha, had passed on tales of her sadistic meanness to her own daughter, Jane Austen's intimate friend and sister-in-law, Mary (Lloyd) Austen-Leigh. The grounds of Elcot are said to have been laid out by Capability Brown, which is quite possible as he had worked at Benham not many years before. Craven's mother died in 1778 and was buried beneath a fine monument in Kintbury Church. His wife followed about a year later , when, unfortunately, he was obliged to give up both Barton and Elcot because he and his wife had no children. So the latter's cousin, the young Anne Whitley, inherited the place. She soon afterwards married Charles Dundas, Baron Amesbury.
About 1815, the estate was purchased, from Lord Amesbury, by Anthony Bushby Bacon, the eldest son of the great ironmaster, Anthony Bacon Senior of Cyfarthfa in Merthyr Tydfil, who had been one of the richest men in the country. Bacon Junior had sold all his interests in the ironworks and bought himself a Welsh estate, but by the 1790s he wanted a place nearer London Society. He rented both Donnington Grove and Benham Park before settling at Elcot. In 1817, he tore down most, if not all, of the original winged C-shaped building and had the present house put up. He also made his new home the talk of horticultural circles by installing a hot water heating system in the conservatory. After Bacon's death, in 1827, Elcot was inherited by his second son, Col. Charles Bacon. He lived there for some years, but sold up in 1844 to Elizabeth, Lady Shelley, the widowed mother of the poet, Percy Byshe Shelley, who himself had been dead over twenty years. Lady Shelley died two years later, but her three daughters lived in the house until the last of them died in 1887.
The house was let to a number of tenants, mostly military families, by the later Shelley family, and then by Sir Richard Sutton Bt of Benham Park who bought the estate in 1899. In the 1890s, Francis Hobson Appach, a London lawyer who had written 'Julius Caesar's British Expeditions,' was in residence, followed by Lieut-Col Townsend. The estate of 122 acres was separated from the house in the time of Richard Plaskett Thomas JP, an Indian tea planter, who lived there in the 1920s, and Charles Firth in the following decade. After WW2, a Mrs Whitehead turned the house into a 'letting residence,' but plans to make this a fully licensed hotel did not come to fruitarian until the ownership of Lady Helen de Crespigny some years later. It remained a private hotel under a number of owners, notably Harold Sterne who ran it for twenty years following a period of dereliction in the 1950s and 60s. In 1989, it was purchased by Resort Hotels and has remained in corporate ownership every since. It is currently the Mercure Newbury Elcot Park Hotel.
Elcot Park is now an hotel.