RBH Home
Maps & Travels
Articles
Legends
Towns & Villages
Castles & Houses
Churches
Biographies
Gentry
Family History
Odds & Ends
Mail David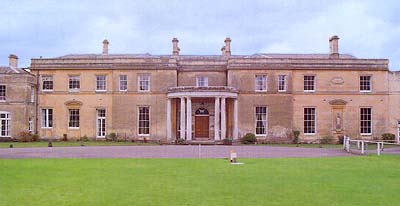 Denford Park
Kintbury, Berkshire
Denford Park is a Grade II listed building erected near Kintbury in Berkshire in 1832 for George Henry Cherry to a design believed to be by Sir Geoffrey Wyatville. Cherry's grandson, Apsley Cherry-Garrard was Captain Scott's companion on his ill-fated expedition to the South Pole. He grew up at Denford during his younger years, but it was later rented out to tenants before being sold. Interesting architectural features include a semi-circular Tuscan portico main entrance, a stone cantilevered staircase with a balustrade decorated in the Adam style and a fine leaded dome.
Denford was a private residential estate until 1939, when it was left to a French Holy Order of Nuns who sympathetically extended the building. During the Second World War, it was used by American officers from the 101st Airborne Division and, in 1954, the place became a Catholic Girls' School. In 1967, Norland College, World famous for the training of nannies, acquired the freehold having moved from Chislehurst in Kent. The college has since relocated to an urban environment.
Denford Park was last offered for sale by Cluttons in 2002.