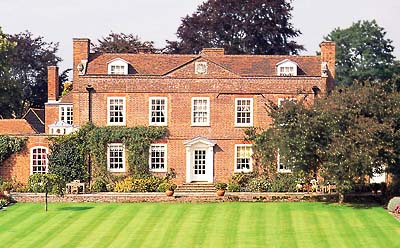 Bagnor Manor
Speen, Berkshire
'Bagenore' was first documented in the Doomsday Book:
"Humphrey the Chamberlain holds Bagenore from the King. Wulfeva held it freehold from King Edward. Then it answered for 4 hides; now 1 hide. Land for 3 ploughs: In hardship 1 (plough) 3 villagers and 3 smallholders with 2 ploughs. 1 slave: a mill at 20s meadow 22 acres: woodland at 4pigs".
In 1232 whilst owned by Henry de Bagenore, he resigned all his land to the Priory and Convent of Poughley in return for a yearly payment of 8 marks, food and clothing for his two sons and an agreement that the Prior would find a suitor for his youngest daughter, Celestria.
The priory was dissolved in 1524 and its lands granted to Wolsey (Christchurch) College, Oxford. Bagnor Manor was later transferred to the Dean and Chapter of Westminster in return for lands in St James' Park. They built the present listed building in the 17th century, but the estate did not pass into private ownership until 1871, when the best family from Donnington Grove purchased it.
Bagnor Manor is a private residence. It was last offered for sale by Knight Frank in June 2000.