Sir Stanley Spencer (1891-1959)
Born: 30th June 1891 at Cookham, Berkshire
Artist
Died 14th December 1959 at Cliveden, Buckinghamshire
Stanley was the eighth surviving child of William Spencer, a music teacher, and his wife, Anne. He was born in a semi-detached Victorian house halfway along the High Street in Cookham, on the that day a crow fell down its chimney and flapped about the living room until released. The family thought it a good omen and named him after Stanley Spencer, a prominent balloonist of the era.
He obtained his educated at a school run by his sisters before entering Maidenhead Technical College where his artistic training began. His first been art lessons were from Dorothy Bailey. At seventeen, Stanley entered the Slade School of Fine Art at University College, London and, there, he won the Composition Prize for 'The Nativity' (1912).
Stanley joined the Royal Army Medical Corps (RAMC) at the outbreak of the First World War. He worked, for a while, at the Beaufort Hospital in Bristol before being sent, in August 1916, to Salonika - a Macedonian port defended by the British & the French under General Sarrail - as part of the 68th Field Ambulancemen. He transferred to an infantry unit in August 1917. In May the following year, Stanley was asked to contribute artistically to the government planned Hall of Remembrance. He was to "to paint a picture under such title as 'A Religious Service at the Front,' or any subjects in or about Salonika". However, work on Stanley's most famous war painting, 'Travoys arriving with Wounded at a Dressing Station at Smol, Macedonia (September 1916),' did not begin until after the Armistice.
After the Great War, Stanley Spencer returned to Cookham and resumed work on 'Swan Upping,' a painting he had begun before his enlistment, before moving to Bourne End and then down to Dorset. In 1921, Stanley stayed with the artist, Murhead Bone, in Hampshire where he was asked to design a war memorial. The final scheme never emerged but it did trigger the ideas that led to the building of the Sandham Memorial Chapel at Burghclere (Hampshire). Spencer was commissioned to paint a scheme of decorative murals there, featuring army life. Stanley married Hilda Carline at Wangford, Suffolk, in 1925, and they started a family soon afterward. The following year, he completed 'The Resurrection, Cookham' and then moved to Burghclere to concentrate on the chapel. The work took him six years in total. The murals appear as a modern parallel to Giotto's work at the Arena Chapel in Padua and are considered "one of the most remarkable artistic achievements of English Painting". There is a cycle of scenes from everyday military life, culminating in an altarpiece depicting the 'Resurrection of the Soldiers'.
Having completed his work in Burghclere, Stanley returned once more to Cookham, living at 'Lindworth'. He became an Associate of the Royal Academy and exhibited several times at the Venice Biennale; but he resigned, in 1935, after the rejection, by the hanging committee, of his 'St. Francis and the Birds' and 'The Dustman'. Around this time, he conceived the idea of 'Church House' which was to take, as its themes, the sacred and the profane in human experience. It was never built, but all of Spencer's subsequent uncommissioned works were intended for display there.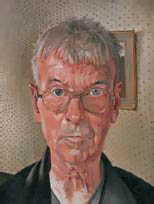 Stanley's personal life now entered a difficult period. In 1937, Hilda divorced him and he subsequently married Patricia Preece, though they never lived together and the marriage was apparently never consummated. On their honeymoon in St. Ives in Cornwall - where Spencer painted widely - Patricia was accompanied by her 'companion,' Dorothy Hepworth. He later had an affair with the wife of a friend, Daphne Charleton, and lived a hermit-like life in Hampstead. There he painted the 'Christ in the Wilderness' series.
During the Second World War, Stanley became a war artist again and was commissioned to paint scenes of shipbuilding at Lithgow's Yard on the Clyde near Glasgow. He largely lived with a cousin in Cookham. After 1945, he moved into his own house at Cliveden View in the same village. There, he returned to the resurrection theme in a series of large-scale religious artworks. He rejoined the Royal Academy in 1950, and was elected RA as well as being awarded the CBE. Spencer was extremely well read and, in 1958, Southampton University awarded him the Honorary Degree of Doctor of Letters. Three days later, he received his knighthood at Buckingham Palace. He died at the Canadian War Memorial Hospital in Cliveden on 14th December the following year. He is buried in Cookham.