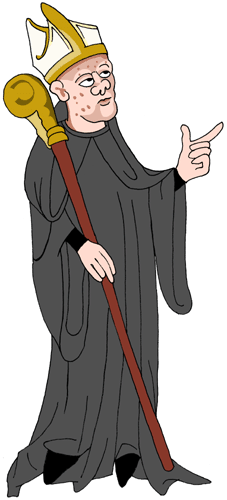 Richard of Wallingford (1292-1336)
Born: 1292 at Wallingford, Berkshire
Abbot of St. Albans
Died: 23rd May 1336 at St. Albans, Hertfordshire
Richard was the son of William Smith, a blacksmith at Wallingford in Berkshire, by his wife, Isabella. His father died when he was barely ten years old and Richard was taken into the care of William de Kirkeby, the Prior of Wallingford. Kirkeby sent his ward to study at Oxford. According to Leland, Richard was a fellow of Merton College. The statement lacks authority, though Richard's skill as a mathematician favours his connection with that college. After spending six years at the University, and determining in the Arts, Richard, in his twenty-third year, assumed the monastic habit at St. Albans. He returned to Oxford, three years later, and passed nine years in the study of philosophy and theology, graduating BD, and being licensed to lecture in the sentences.
While Richard was on a visit to St. Albans, Abbot Hugh de Eversdon died on 7th September 1327. The election of a successor took place on 29th October when, after Richard had preached on the text, 'Eligite ex nobis virum meliorem' (1 Samuel xvii. 8), he was chosen as abbot. After his election, Richard went to the King at Nottingham and, on 23rd November, set out for the Papal Court, reaching Avignon on 4th January 1328. On the following day, he was presented to the Pope and asked for confirmation. An informality was, however, discovered in his election and Richard was called upon to renounce his claim. He was, however, Papally provided to the Abbacy on 1st February and, after a few days, was hallowed by the Bishop of Porto. As usual, the abbot had to pay heavily to the Papal Officials, but his total expenses on the journey were, owing to his economy in other matters, only £953-10s-11d. Richard returned to England in April and, after doing homage to the King at Northampton, made his entry into St. Albans on the day after Trinity Sunday.
The rule of Richard's predecessor, Hugh, had been lax and the new abbot had to contend with troubles both among his monks and the townsmen. The latter had extorted, from the Abbey in 1327, a charier of liberties and a common seal but, after long legal proceedings, Richard succeeded in enforcing their surrender in 1332. Richard's rule of his monks was hampered by bodily affliction, for be was a leper. In 1328, on his return from Rome, he suffered from temporary blindness, but the true nature of his illness was apparently not apprehended; though quite early in his abbacy some of the younger monks began to conspire against him, on the plea of his leprosy. The disease quickly grew worse and, in 1332, Richard had almost lost the power of speech. As a result of intrigues by the Abbot's enemies, Pope John XXII ordered an inquiry, on 3rd November 1332. The King's Council protested against such interference, but Richard yielded so far as to appoint a coadjutor in February 1333.
Leland alleges that, owing to his leprosy, Richard had to withdraw from the monastery to a house which he built in the town. There is nothing of this in the Gesta, but it is recorded that, on 29th November 1334, the Abbot's Chamber was set on fire by lightning and that, after this, his disease grew much worse. He died on Thursday, 23rd May 1336.
Richard is described as "circumspect and timid in prosperity, in adversity patient and magnanimous; in all things and towards all men, both in word and by example, thoughtful and kindly." Even the disfigurement of leprosy could not overcome the charm of his sanctity and learning. At St. Albans, Richard restored the damage that had been done to the roof of the Abbey and commenced the building of a new cloister and almonry. But his greatest work was the clock called 'Albion' (all-by-one) which, in addition to the times and seasons, showed the courses of the sun and moon and planets. A copy may be seen in the British Museum today. King Edward III censured the expenditure of so much money on such an object, but Richard replied that when he himself was dead there would be no-one who could complete the work. Richard was the most skilful man of his time in the liberal sciences and mechanical arts. His lawyers admitted his sound knowledge of law and he was also a competent theologian. As an astrologer, he claimed to forecast the weather and future events. He was credited with having foretold the death of Abbot Hugh and his own accession. Man of learning though he was, Richard is said to have given Richard de Bury four valuable manuscripts belonging to the Abbey as a bribe and to have sold him thirty-two others. On the other hand, Miscellaneous Manuscript 264 in the Bodleian Library, which contains some of the works of St. Anselm, was presented by Richard to the Abbey of St. Albans.
Edited from Sidney Lee's "Dictionary of National Biography" (1899).