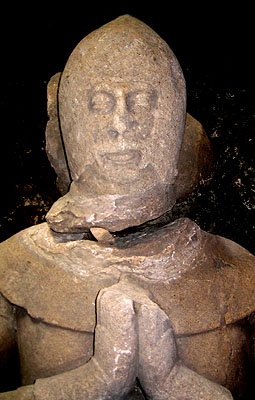 Sir Nicholas De La Beche (d. 1345)
Born: circa 1291
'Baron De La Beche of Aldworth'
Died: 1345
Sir Nicholas De La Beche held immense territories in Berkshire and elsewhere. Besides La Beche Castle in Aldworth, he owned Beaumys Castle in Swallowfield, and the manors of Yattendon, which he emparked, East & West Compton, Cookham, Binfield, Burghfield, Basildon, Harwell, Stratfield, Padworth, Peasemore, Leckhampstead, Bradfield, Farley and estates in Sussex.
Sir Nicholas was appointed Governor to the Black Prince and, in 1336, was made Constable of the Tower of London. In 1340, the two Princesses, Isabella and Joanna, aged, respectively, eight and seven, were left there under his care, during the absence of the King and Queen in France; but he appears to have neglected his duties for, upon the sudden and unexpected return of the King one December night, the fortress was found badly guarded, the Governor absent and only three ordinary servants in attendance on the Royal children.
Greatly enraged at this, the King ordered the arrest and imprisonment of Sir Nicholas, and other officers, and "treated them with exemplary rigour," but, in less than two years, Sir Nicholas received his pardon, was reinstated as Constable of the Tower and allowed to castellate his houses, at La Beche and Beaumys.
In 1343, the year he was appointed Seneschal of Gascony, Nicholas was summoned to what has been described as a parliament, but which was probably only an advisory council. Hence, he is sometimes called Baron De La Beche of Aldworth. The following year, he was appointed Governor of Montgomery Castle; and, in 1345, he was sent as one of the Commissioners to treat with Alphonso, King of Castile, touching a marriage between the eldest son of that King and the Princess Joanna. He was later employed in King Edward's wars in Brittany.
Nicholas De La Beche died in 1345, leaving no child, but his wife Margery Poynings, whom he had married in 1339, survived him. He was buried under a fine effigial monument in St. Mary's Church in Aldworth.
Edited from Lady Russell's 'Swallowfield & its Owners' (1901)