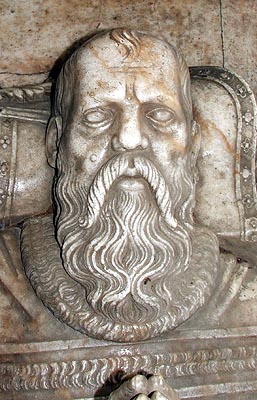 John Williams (1500-1559)
Born: 1500 at Burghfield, Berkshire
Baron Williams of Thame
Died: 14th October 1559
at Ludlow Castle, Shropshire
John Williams was the second son of Sir John Williams of Burghfield in Berkshire & Preston Candover in Hampshire, by his wife Elizabeth, daughter and co-heiress of Richard Moore, also of Burghfield. His father, who fought for King Henry VII at the Battle of Bosworth, sprang, originally, from Glamorgan and was a direct descendant of Iestyn ap Gwrgant, the last ruler of that principality. John was also a kinsman of Thomas Cromwell alias Williams, into whose service he entered. He first became associated with Thame in Oxfordshire upon his first marriage in 1524, his wife's family being local gentry. Not long afterwards, he purchased his chief seat of Rycote Park, to the west of the town, and eventually built there a great Tudor palace.
At the age of twenty-six, Williams is found as a servant to Cardinal Wolsey at the newly completed palace of Hampton Court. By 1530, he was appointed a clerk of the King's Jewels, with a salary of twenty marks (£13-6s-8d), in succession to Thomas Wyatt. On 6th March following, he was made receiver of the lands of Edward Stafford, 3rd Duke of Buckingham On 8th May 1581, he received a grant in reversion of the office of principal clerk of the King's Jewels. In 1535, he was placed on the commission of the peace for Oxford, Oxfordshire and Buckinghamshire and, in April 1536, he was associated with Cromwell in the office of Master or Treasurer of the King's Jewels. During the northern rebellions of that year, he was "called by the council to hear matters and keep a register of accusations" and, on 15th October 1537, he was present at the christening of Prince Edward
The Dissolution of the Monasteries seems to have been the making of Williams, despite his conservative view of religious matters. In 1537, he was initially commissioned to investigate accusations against the Oxfordshire abbeys of Osney, Eynsham and Thame. He managed to obtain a brief reprieve for Studley Priory, where his sister was prioress, but eventually he received the surrender of all these monasteries. As Master of the King's Jewels, he was particularly keen on ransacking the great shrines. He gathered 5,000 marks' worth of gold and silver from the Shrine of St. Edmund at Bury and, in March 1538, stripped Abingdon Abbey of 100 barge-loads of spoils! He was also responsible for the despoiling of St. Swithun's Shrine at Winchester. However, it was largely due to Williams' influence that his sister's brother-in-law - Robert King, the Abbot of Thame - became Bishop of Thame & Oseney and then first Bishop of Oxford.
Estates now came thick and fast to add to Williams' lands at Rycote. He purchased Wytham in Berkshire and a cluster of other manors to the west of Oxford. These were joined by lands in Monmouthshire, as well as the Priory of St. Mary's-in-Cripplegate (alias Elsingspital). In November 1538, he was picked for Sheriff of Oxfordshire and, in 1539, obtained some of the lands of the dissolved monastery of St. Mary in Thame itself. Notley and Marlow (both in Buckinghamshire) eventually followed. He is said to have been knighted on 18th October 1537, but he is first so styled, in contemporary documents, on 29th September 1539. The dissolution of the greater monasteries brought him still further grants of land and, on Cromwell's attainder, he succeeded as sole keeper of the King's Jewels. By 1540, it is clear that Sir John was in high favour, for Henry VIII and Catherine Howard spent their honeymoon at Rycote Palace. However, the King could not have been too happy with him, after Christmas Eve 1541, when, during a great fire at Sir John's house in Cripplegate, many of the the Royal jewels were stolen! Williams may thus have felt it wise to exchange his treasury duties, in 1544, and received the more prestigious position of Treasurer of the Court of Augmentations in succession to Edward, 1st Baron North, instead.
To Williams's tenure of this office are due the innumerable references to him in the state papers and acts of the Privy Council; but he was without much political importance and was not even named an assistant executor to Henry VIII's will. On 4th October 1547, he was returned to Parliament for Oxfordshire, which he had represented in 1542 and continued to represent until his elevation to the peerage. He was apparently an unpopular landlord with the locals however and was fell victim to an uprising in the county, in the Summer of 1549, during which all the deer were killed in his parks at Rycote and Thame. Lord Protector Somerset was lenient with the rebels and Sir John was, therefore, happy to be one of those appointed, on 10th October, to arrest him and secure Edward VI's safety at Windsor Castle.
Early in 1552, Williams gave offence by paying the pensions due from the augmentations court to dispossessed monks and chantry priests without consulting the Privy Council. On 3rd April, he was summoned to appear before it and, on the 8th, he was committed to the Fleet Prison, where, however, he was allowed, for his health's sake, to walk in the gardens and receive visits from his wife and children. On 22nd May, however, on making his submission, he was provisionally released and, on 2nd June, was granted full liberty. He retained his office and, in March 1553, received the Council's letters in favour of his re-election to Parliament for Oxfordshire; but his temporary disgrace and religious conservatism made him welcome Queen Mary's accession, which he did not a little to help.
By now, Sir John was beginning to lose his previously unassailable position in Oxfordshire, to Sir Andrew Dudley, brother of the new Lord Protector, the Duke of Northumberland. Thus, immediately after Edward VI's death, on 6th July, Williams went down to his home county and, on the 15th, news reached London that he was proclaiming Princess Mary as Queen, in direct opposition to Northumberland's plans to place Lady Jane Grey on the Throne. A few days later, he was said to have six or seven thousand men ready in Northamptonshire to maintain her cause. The success of Sir John's call to arms had a great influence on the Council of London and ensured Northumberland's speedy collapse. Thus the employment of his men was rendered unnecessary and, on 22nd July, he was ordered to disband them. On the 29th, Sir John conducted the Princess Elizabeth through London to Somerset House and, on 3rd August, he was sent to suppress some commotions at Royston and in Cambridgeshire. On 19th February 1554, after Wyatt's Rebellion, he was sent to fetch Elizabeth to Court, apparently from Hatfield. She sent Williams back, pleading sickness; but, on 20th May, he conducted her from Brentford to Woodstock, with entertainment at Rycote en route. She remained for a time in his custody at Woodstock Palace, until the consideration with which he treated her - and the rumours of his plots to marry her to the Yorkist heir, Edward Courtenay - caused her transference to the keeping of Sir Henry Bedingfield (1509-1583).
Meanwhile, Williams had been created Baron Williams of Thame - partly as a reward for his prompt adherence to Mary and partly as compensation for the loss of the Treasurership of the Court of Augmentations, which the Queen had naturally abolished. The creation was doubtless by writ of summons to Parliament, dated 17th February 1554, and the proceedings mentioned by the chroniclers under date 5th April were merely confirmatory. On 8th March 1554, as Sheriff of Oxfordshire, he conveyed Cranmer, Latimer and Ridley to await their trial at Oxford. He was present in the same capacity at the execution of all three and also examined John Philpot. He was also chamberlain to King Philip II.
Owing to his kindness to Elizabeth, Williams remained in favour after her accession. He was one of the lords appointed to accompany her to London, in November 1558, and, in February 1559, he was appointed Lord President of the Council of the Welsh Marches. He was also, in that year, made a visitor of the Welsh dioceses and of Oxford University; but his health was failing him by March and he died at Ludlow Castle on 14th October 1559, being attended by John Jewel, some time vicar of his estate at Sunningwell and, afterwards, Bishop of Salisbury. He was buried on 15th November in the parish church at Thame, where there is a fine effigial monument to his memory.
By his will, dated 8th March 1559 and proved in 1560, Williams left the rectories and parsonages of Brill, Oakley and Borstall, in Buckinghamshire, and Easton Neston, in Northamptonshire, to his executors for the purpose of founding a free school at Thame. The school buildings were begun in 1574 and an account of the foundation, privately printed in 1675, is in the Bodleian Library. Among the alumni of Thame School were Dr. John Fell, Shakerley Marmion, Anthony A'Wood, Edward Pococke and Henry King, Bishop of Chichester. Williams also bequeathed money to the almshouses at Thame.
Williams married, firstly in 1524, Elizabeth, daughter of Thomas Bledlow and widow of Andrew Edmunds of Cressing Temple, Essex. She died on 26th October 1556 and was buried on 4th November at their home in Rycote, Oxfordshire. Williams married, secondly, Margaret, daughter of Thomas, 1st Baron Wentworth. He left no issue by her and she married, secondly, on 10th October 1660, Sir William Drury and, thirdly, Sir James Crofts. She survived until 1688. By his first wife, Williams had issue three sons: John, who died unmarried and was buried at St. Alphege, London Wall, on 18th February 1559, his funeral sermon being preached by John Veron; Henry, who married Anne, daughter of Henry Stafford, 1st Baron Stafford, but died without issue on 20th August 1551; and Francis, who died unmarried. The Barony thus became extinct, if it was created by patent; if it was created by writ, it fell into abeyance between his two daughters, Isabel (who married Richard Wenman, great-grandfather of Thomas, 2nd Viscount Wenman) and Margery (who married Sir Henry Norreys, afterwards Baron Norreys of Rycote). The family of Lord Williams' brother, Reginald, continued in Burghfield for another two generations.
Edited from Sidney Lee's 'Dictionary of National Biography' (1900)