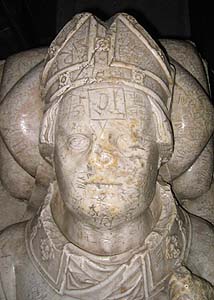 John Harewell (d. 1386)
Born: circa 1322 presumably at Harwell, Berkshire
Bishop of Bath & Wells
Died: July 1386
As his name suggests, John Harewell came from Harwell in Berkshire. He was the son of Master John atte Halle of Harwell and his wife, Margery, the heiress of the Bayllols of Bayllol's (alias Brunce's) Manor in the same village. His elder brother, Roger, became lord of the manor of Wootten Wawen in Warwickshire. John seems to have gained a good education at Oxford and entered the Church, first as Rector of Whichford, also in Warwickshire, with a Papal reservation for the Archdeaconry of Cornwall. It seems unlikely that he ever visited the latter, for John was a high-flyer.
During his youth, he may have come to the attention of the lord of the senior Harwell Manor, the Black Prince. The favourite home of this Royal patron was at nearby Wallingford Castle. By March 1351, Harewell had certainly been made a King's Clerk and, thenceforth, became the Prince's Private Chaplain and trusted Counsellor. Nominal appointments as Archdeacon of Norfolk and then Worcester followed and, more importantly, as Chancellor of Guyenne; but, in 1365, the Black Prince petitioned the Pope to give him the more convenient position as Archdeacon of Berkshire. He had also been a Canon of Wells during this time, so it was no surprise when, two years later, he was elevated to be Bishop of that diocese in succession to John Barnet. He was consecrated at Bourdeaux.
Harewell is best remembered at Wells for having paid for the erection of the southernmost tower of the great west front. However, he also donated two bells known as 'Great and Little Harewell' and filled the three great lancets of the west window with painted glass. His effigy remains in the south choir-aisle, but scarcely represents him, as he was described by his contemporaries as "a very fat man, to the point of being obese."