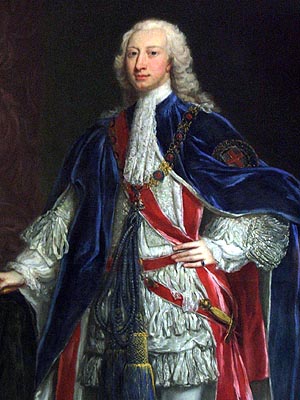 Frederick Louis,
Prince of Wales (1707-1751)
Born: 20th January 1707 at Hanover, Germany
Prince of Wales
Died: 20th March 1751
at Leicester House, Westminster, Middlesex
Prince Frederick was the eldest son of King George II and Caroline of Anspach, and father of King George III. He was, in his cradle and for a long time after he left it, the unconscious subject of negotiations between the Hanoverian and Prussian Houses for a 'double marriage' between their children, Frederick's destined bride being Wilhelmina, afterwards Margravine of Baireuth, whose Memoirs were so fully utilized by Carlyle in his history of her brother Frederick the Great. In spite of the growing personal hatred between Frederick's father and the King of Prussia, the project was not wholly abandoned until after the Prince came to England, which was in 1728. He had then already embarked upon the career of opposition, so dear in those days to the heirs apparent of his astonishing family. It is less easy to understand his mother's hatred of him than his father's, for Queen Caroline was not only a woman of great intellectual power, but was often unselfish and was capable of enduring much. But she continually wished her son Frederick was dead, and on her own deathbed refused to see him. It was not difficult for the shallow vapid fellow to court popularity with a nation which disliked his father more than a little; and the Prince's successive residences - including Park Place in Remenham where he lived from 1738 - naturally became the centres of the Opposition, first to Sir Robert Walpole's Ministry and, after Walpole's fall, to whatever Ministry was in office. 'Leicester House' also set itself up as a centre of literary patronage and some mediocre poets were received there. It was the King, however, who, in 1736, made the marriage for Frederick with the strong-willed Princess Augusta of Saxe-Gotha, and perhaps he made it in order to have the pleasure of settling on the pair, out of the Civil List, only half the income which he himself had enjoyed when Prince of Wales. Frederick appealed to Parliament for more and got a good many votes in support of his appeal. There were several subsequent efforts to reconcile the King and the Prince, but none were of avail. The whole story is a very sordid one, infinitely worse than that of the relation between George I and Frederick's father, and a good deal worse than that between Frederick's son and the future George IV. Frederick himself, we may fairly set down as the member of his family most contemptible to his contemporaries, most negligible by history. He was given to vulgar immorality, he was a natural liar, very unscrupulous about money and, unfortunately for him, he was never called upon to show whether he possessed the personal courage which was the heritage of his race:
But since it's only Fred,
Who was alive and is dead,
There's no more to be said.

Edited from CRL Fletcher's 'Historical Portraits' (1919).