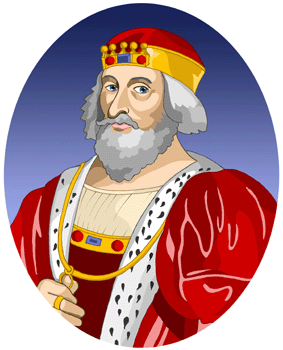 David II, King of Scots (1324-1371)
Born: 5th March 1324 at Dunfermline Palace, Fife
King of Scots
Died: 22nd February 1371
at Edinburgh Castle, Edinburgh, Midlothian
David II was the son of King Robert the Bruce by his second wife, Elizabeth de Burgh. He was born, rather late in his motherís life, at Dunfermline Palace on 5th March 1324. In accordance with the terms of the Treaty of Northampton, he was married, in July 1328, to Joanna, the daughter of King Edward II of England and inherited the Kingdom of Scotland upon his father's death in June 1329. He was only five and was crowned at Scone Abbey in November 1331, with the Earl of Moray acting as his regent.
When Davidís nephew, King Edward III of England and the rival claimant to the Scottish throne, his protege, Edward Balliol, were victorious at the Battle of Halidon Hill in July 1333, David and his queen fled to the safety of the French Court. They reached Boulogne in May 1334 and were most graciously received by the King Philip VI of France. Little is known about King Davidís time across the Channel, though he was given Chateau Gaillard as his residence and he was present, in October 1339, at the bloodless meeting between the French and English armies at Vironfosse. After seven years of exile, his supporters eventually gained the upper hand at home and David was able to return to Scotland in June 1341. He quickly took hold of the reins of government and, in 1346, even invaded England on behalf of the French Alliance. Unfortunately, in the October, he was defeated at the Battle of Neville's Cross and taken prisoner by the English. He remained south of the border for eleven years, being Royally entertained by his nephew in London; under the watchful eye of Sir William Trussell at Odiham Castle in Hampshire; and at Windsor Castle in Berkshire, where he suggested his ransom might help pay for a little upgrading of the strongholdís accommodation!
Negotiations were immediate, but protracted. Finally, after several interruptions, an agreement was signed in Berwick in October 1357. Scotland undertook to pay 100,000 marks (£66,666-13s-4d) for the return of their King and he returned to Scotland at once, having probably first recognised Edward III as his feudal overlord. Owing to the poverty of his Kingdom, however, King David found it impossible to raise the money. Only a few installments were paid, before he attempted to rid himself of such a burden by offering to make the English King, or one of his sons, his successor to the Scottish Crown. This was, not surprisingly, a very unpopular move in Scotland, and the Scottish Parliament indignantly rejected a proposal to make Lionel, Duke of Clarence, their next monarch, when it was placed before them in 1364. However, after having suppressed a rising of some of the more disruptive nobles, King David seems to have continued to treat secretly with Edward over this matter. He died, with the situation still unresolved, on 22nd February 1371. In short, David was a weak and incapable ruler, with little of his father's patriotic spirit. He married twice, but left no children, and was succeeded by his nephew, Robert II.